Book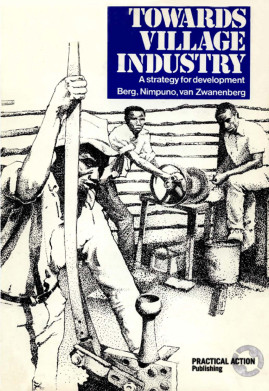 Towards Village Industry
A Strategy for Development
Liv Berg, K Nimpuno, R Zwananberg
Published: 1978
Pages: 88

eBook: 9781780444390
Paperback: 9780903031523
Based on their experience in Tanzania, the authors examine the idea that rural development can become the key to economic stability and growth. The premise is that industrialization of the rural areas in developing countries must go hand-in-hand with mechanization of agricultural methods.
Introduction Rural Industrialisation

R. van Zwanenberg 5

Chapter 1 Community Development

and Small Industry

K. Nimpuno 7

Chapter 2 Pre-capitalist Industry in

Eastern Africa

R. van Zwanenberg 13

Chapter 3 Recycling Industry

L. Berg 19

Chapter 4 Workshops Today

K. Nimpuno 27

Chapter 5 Small Scale Production —

The Contemporary

Situation

L. Berg 37

Chapter 6 Training for Production

K. Nimpuno 51

Chapter 7 Village Workshop Equipment

H. Tollin & B. Oscarsson 55

Chapter 8 Village Workshop Design

K. Nimpuno 69

Chapter 9 Village Workshop

Construction

K. Nimpuno 73

Chapter 10 Official View on

Rural Industry

K. Nimpuno 79

Chapter 11 Towards Village Industry

K. Nimpuno 85
K Nimpuno
Krisno Nimpuno was born in Indonesia but has lived for a long time in Sweden. He is an architect by profession, and has worked in Kenya, Tanzania and Mozambique as a Government Adviser on Rural Development.