Book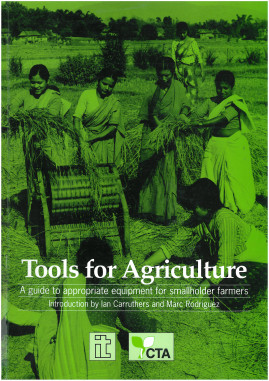 Tools for Agriculture
A guide to appropriate equipment for smallholder farmers
Published: 1992
Pages: 248

eBook: 9781780443645
Paperback: 9781853391002
Tools for Agriculture is a guide to small-scale farming equipment which offers information to smallholder farmers, development workers, and manufacturers all over the world. This revised and updated fourth edition, appearing 25 years after ITDG's original published guide to appropriate equipment, "Tools for Progress", is the first to be produced from a computer database, compiled jointlyw ith GRET to enable systematic and continuous updating. Information has been selected from more than 1200 manufacturers in over 90 countries, and is presented here in ten sections for ease of reference. Each subject area - field power, soil preparation, crop protection - is introduced by a specialist who sets the range of available tools, implements and machines against a background of good farming practice, and the factors to weigh up when making a choice. The theme of effective choice is also considered in the main introduction along with an analysis of why some mechanization projects are more successful than others and how they could be improved. Also included are sources of further information and useful indexes of manufacturers and equipment.
Preface vii

PARTI: INTRODUCTION

1. Some Basic Ingredients, Orlando Fals-Borda 3

2. The Theoretical Standpoint of PAR,

Muhammad Anisur Rahman 13

3. A Self-Review of PAR, Muhammad Anisur

Rahman and Orlando Fals-Borda 24

PART II: VIVENCIAS

4. Together Against the Computer: PAR and the

Struggle of Afro-Colombians for Public Service,

Gustavo I. de Roux 37

5. Young Laborers in Bogota: Breaking Authoritarian

Ramparts, Maria Cristina Salazar 54

6. Action and Participatory Research: A Case of

Peasant Organization, Vera Gianotten and

Ton de Wit 64

7. Glimpses of the "Other Africa," Muhammad

Anisur Rahman 84

8. People's Power in Zimbabwe, Sithembiso Nyoni 109

vi Action and Knowledge

9. Toward a Knowledge Democracy: Viewpoints on

Participatory Research in North America,

JohnGaventa 121

PARTm: STEPS IN PRAXIOLOGY

10. Stimulation of Self-Reliant Initiatives by

Sensitized Agents: Some Lessons from Practice,

S. Tilakaratna 135

11. Remaking Knowledge, Orlando Fals-Borda 146

References and Further Reading 167

About the Co-authors 181
Ian Carruthers
Ian Carruthers died in 1996. Ian Carruthers will be remembered for his major contributions to agrarian development in the world's poorer countries - particularly in irrigation economics - and for the unique external degrees in Agricultural Development
Decoupling of greenhouse gas emissions from global agricultural production: 1970-2050
Bennetzen, Eskild H.
Smith, Pete
Porter, John R.
Global Change Biology, Vol. 22 (2016), Iss. 2 P.763
https://doi.org/10.1111/gcb.13120
[Citations: 90]
Rational Design of Nanosized Light Elements for Hydrogen Storage: Classes, Synthesis, Characterization, and Properties
Lai, Qiwen
Wang, Ting
Sun, Yahui
Aguey‐Zinsou, Kondo‐François
Advanced Materials Technologies, Vol. 3 (2018), Iss. 9 P.1700298
https://doi.org/10.1002/admt.201700298
[Citations: 27]