Book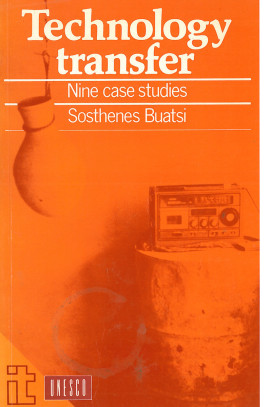 Technology Transfer
Nine case studies
Published: 1988
Pages: 96

eBook: 9781780443584
Paperback: 9780946688296
Nine case studies in technology transfer which demonstrate the experience gained in different countries and different technologies.
1: Cashew Processing in Choluteca, Honduras (page 13)
2: Development and Application of the Rower Pump in Bangladesh (page 17)
3: Basic Engineering Workshops in Ghana (page 26)
4: Improved Extraction of Palm Oil in Ghana (page 36)
5: Plywood Fishing Boats for South India (page 45)
6: Improved Cooking Stoves for the Gambia (page 54)
7: Hanuacast Foundry: Scrap Recovery in Papua New Guinea (page 65)
8: Paper Pulp Moulding Systems (page 78)
9: Mini Hydro Power Development in Nepal (page 87)

Sosthenes Buatsi
Sosthenes Buatsi was the first person to be appointed a Research Fellow in the new Technology Consultancy Centre (TCC) of the Kwame Nkrumah University of Science and Technology (KNUST), Kumasi, Ghana. Sosthenes Buastsi has been retired but still acts as a consultant for TCC.