Book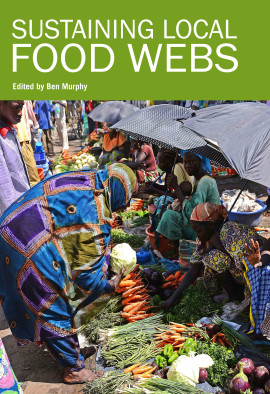 Sustaining Local Food Webs
Published: 2014
Pages: 84

Paperback: 9781853398810
Local production provides food for more than 70 per cent of the world's population and secures a livelihood for well over 2 billion. In local food webs the distance between producer and consumer is geographically and culturally short – with food and labour shared between families, neighbours, villages, and towns. Control over the whole process of producing and providing nutritious food is held at the level of small-scale food providers, enabling them to produce the food needed by their families and communities, with surpluses for urban areas and wider markets, while making viable livelihoods from their labour and protecting their local environment.
These food webs are productive, resilient and healthy, connecting food providers and consumers locally. They are efficient in terms of food provision when compared with the long chains that deliver the commodities produced by unsustainable industrial agriculture to distant consumers. Local food webs need protection, increased investment and support.
This report captures the compelling rationale for local food webs. It sets out to demonstrate the value and challenges of local, resilient, biodiverse and productive food systems that would benefit from greater support and compliant policies. It uses examples from five countries across Africa and Europe, yet has relevance across all continents, demonstrating how productive local food systems can improve small-scale family farming and reduce hunger, in contrast to industrial agricultural systems.
The report has been prepared and published with resources from the campaign europAfrica: towards food sovereignty, a coalition of European civil society organisations and African farmers' regional networks working together for mutually supportive and sustainable food systems in Europe and Africa that help realise food sovereignty.
Prelims [Foreword| Abbreviations and acronyms]

1 Introduction

AFRICA

2 Cameroon

3 Kenya

4 Mali

5 Conclusion

EUROPE

6 England

7 Hungary

8 Conclusion

9 Common threads

Annex 1 Other local food schemes in the UK

Annex 2 African farmer workshop synthesis report: Agricultural investment strengthening family farming and sustainable food systems in Africa

Annex 3 CPRE campaign briefing

Back Matter [Mapping local food webs: methodology and survey |References]