Book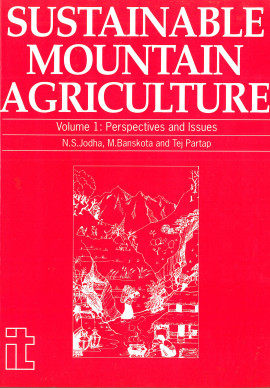 Sustainable Mountain Agriculture 1
Perspectives and issues
Published: 1992
Pages: 416

eBook: 9781780443546
Paperback: 9781853391309
Mountain areas of developing countries face rapid increases in population pressure as well as degradation of the environment and production resource base, and there are unmistakable symptoms of the emerging unsustainability of current patterns of resource use and production practices. This situation is both a cause for concern and a reason for reappraisal of conventional development approaches to mountain areas in general, and mountain agriculture in particular. The book aims to stimulate fresh thinking on development goals and strategies in mountain regions. This volume contains Chapters 1 to 15 and considers the following aspects: mountain agricultural development strategies, farmers' response to development efforts, farming-forestry-livestock linkages, biological diversity, agro-ecosystems, and geographic information systems.
Foreword ix

Sergio C. Trindade, Executive Director, United

Nations Centre for Science and Technology for

Development (UNCSTD)

Introduction 1

A. S. Bhalla

Part I: Favorable Policies and Programs 13

1. Centralized versus Decentralized Policy Toward

Small and Medium Enterprises 17

John Marcum

2. Technological Policy for Small and Medium

Enterprises: The Canadian Experience 29

Paul Dufour

3. Technology Policy for Small and Medium

Enterprises in The Netherlands 47

Walter Zegveld

4. Technological Transformation of Small and

Medium Enterprises in China 55

Guan Ze-wen et al.

5. Technology Promotion Programs for Small

Enterprises: The Philippine Experience 67

Quintin G. Tan

vi Contents

Part II: Building Technological Capabilities 79

6. Innovations and Small Producers in Developing

Countries 83

A. S. Bhalla

7. Building Indigenous Technological Capability

Through Foreign Assistance to Small/Medium

Enterprises 101

J. M. Hekland

8. A New Approach to Innovation in Traditional

Industries: The Italian Experience 109

Danielle Mazzonis and Mario Pianta

9. Building Technological Capability of Finnish Small

Industry Through Risk-financing 127

Veikko O. Vuorikari

10. Technological Transformation of Small Enterprises

in Zhejiang Province, China 139

Wu Tianzu

11. Technological Characteristics and Change in Small

Industrial Enterprises in Guangdong Province,

China 153

Guan Ze-wen et al.

12. Management and Technological Capabilities of

Malaysian Small and Medium Enterprises:

Constraints and Potential 167

Ahmad Zahdi Bin Jamil and Rahimah Bt. Md. Said

13. Development of Design and Manufacturing

Capabilities in a Small Nigerian Company 175

Sam Chukwujekwu

Part III: Institutions and Infrastructure 183

14. Nurturing Microenterprises and Technological

Innovation through Business Incubation Process 187

Rustam Lalkaka and Hu Ping

15. Institutions for Promoting Technological

Modernization of Indian Small Enterprises 203

C. V: S. Ratnam

16. Technical and Managerial Extension Services for

Korean Small and Medium Enterprises 213

Kyung Tae Lee

Contents vii

17. Cooperation between Research and Educational

Institutions and Small Enterprises in China 221

Cai Liyi

18. Infrastructural Requirements of Information

Technology and Small and Medium Enterprises 233

Karl Ganzhorn

The Seminar Report 247

Select Bibliography 271

Index 275

Notes on the Contributors 283
N.S. Jodha
N.S. Jodha is Head of the Mountain Fanning Systems Division at the International Centre for Integrated Mountain Development (ICIMOD), Kathmandu, Nepal. He is currently based in Washington, DC, with the World Bank.
Effect of Altitude on Forest Soil Properties at Northern Karakoram
Hussain, Ishtiaq
Hussain, Shabir
Hussain, Azhar
Ali, Haibat
Ali, Meher
Eurasian Soil Science, Vol. 52 (2019), Iss. 10 P.1159
https://doi.org/10.1134/S1064229319100120
[Citations: 4]
Handbook of Climate Change Adaptation
An Approach to Measure Vulnerability and Adaptation to Climate Change in the Hindu Kush Himalayas
Gerlitz, Jean-Yves
Banerjee, Soumyadeep
Brooks, Nick
Hunzai, Kiran
Macchi, Mirjam
2015
https://doi.org/10.1007/978-3-642-38670-1_99
[Citations: 4]
CHARACTERISING INDICATORS OF SUSTAINABLE LAND MANAGEMENT IN INDIAN HIMALAYAN SLOPING LANDS
RAIS, M.
SHARMA, D. C.
Journal of Environmental Assessment Policy and Management, Vol. 10 (2008), Iss. 04 P.431
https://doi.org/10.1142/S1464333208003111
[Citations: 2]
Migration, Risk Management and Climate Change: Evidence and Policy Responses
Circular Migration and Local Adaptation in the Mountainous Community of Las Palomas (Mexico)
Cascone, Noemi
Peña del Valle Isla, Ana Elisa
Milan, Andrea
2016
https://doi.org/10.1007/978-3-319-42922-9_4
[Citations: 1]
Tourism Sustainability Through Destination Benchmarking Indicator Systems: The Case of Alpine Tourism
Fuchs, Matthias
Peters, Mike
Weiermair, Klaus
Tourism Recreation Research, Vol. 27 (2002), Iss. 3 P.21
https://doi.org/10.1080/02508281.2002.11081371
[Citations: 14]
The Hindu Kush Himalaya Assessment
Understanding and Tackling Poverty and Vulnerability in Mountain Livelihoods in the Hindu Kush Himalaya
Gioli, Giovanna
Thapa, Ganesh
Khan, Fawad
Dasgupta, Purnamita
Nathan, Dev
Chhetri, Netra
Adhikari, Lipy
Mohanty, Sanjay Kumar
Aurino, Elisabetta
Mapstone Scott, Laura
2019
https://doi.org/10.1007/978-3-319-92288-1_12
[Citations: 11]
Process Evaluation of Primary Health Care Projects: A Mid-Term Evaluation of a Primary Health Care Project in Northern India
Pandey, Shanta
Messerschmidt, Donald A.
Braaten, Brad
Eslinger, Gloria
Journal of Community Practice, Vol. 4 (1997), Iss. 3 P.1
https://doi.org/10.1300/J125v04n03_01
[Citations: 2]
Handbook of Climate Change Management
Resilience Building Solutions for Mountain Smallholders: Catalyzing Transformations with an Integrated Modular Approach in the Hindu Kush Himalaya
Agrawal, Nand Kishor
Udas, Erica
Leikanger, Iris
Bhatta, Laxmi Dutt
Sharma, Eklabya
Joshi, Keshab Datta
2021
https://doi.org/10.1007/978-3-030-22759-3_156-1
[Citations: 0]
The Role of Authority in the Collective Management of Hill Irrigation Systems in the Alai (Kyrgyzstan) and Pamir (Tajikistan)
Hill, Joe
Mountain Research and Development, Vol. 33 (2013), Iss. 3 P.294
https://doi.org/10.1659/MRD-JOURNAL-D-12-00127.1
[Citations: 7]