Book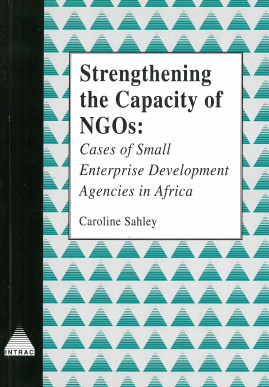 Strengthening the Capacity of NGOs
Cases of Small Enterprise Development Agencies in Africa
Published: 1996
Pages: 168

Paperback: 9781897748107
A growing proportion of overseas aid resources is flowing through indigenous NGOs in Africa, Asia and Latin America. Concerns about the capacity and performance of many Southern NGOs are leading Northern NGOs and official donors to seek ways of strengthening their partners that extend beyond technical and financial support. Capacity building models that strengthen and empower local NGOs by improving their management ability and organisational capacities are now an essential component of overseas development strategies.

The small enterprise development sector has been the focus of many capacity building efforts. The need for financial and organisational expertise in this sector highlights the importance of developing sound and effective approaches to capacity building.

Strengthening the Capacity of NGOs examines the theory and practice of capacity building. It discusses common organisational challenges facing NGOs and presents in-depth practical case studies. These cases illustrate a range of assistance models designed to increase the organisational capacity of small enterprise development agencies in Africa.