Book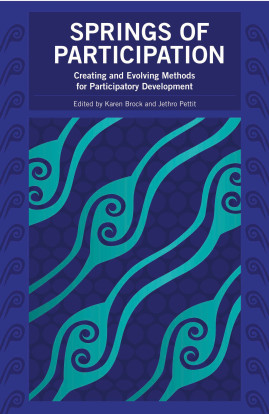 Springs of Participation
Creating and evolving methods for participatory development
Published: 2007
Pages: 232

eBook: 9781780446004
Paperback: 9781853396472
Learning from others in the form of fusion and adaptation of existing tools and approaches is very much part of evolving new participatory methods, and is a key component of the process of creating fresh approaches to new challenges. Springs of Participation brings together the experiences and reflections of a group of practitioners of participatory methodologies, who work in diverse situations and countries, in order that both academics and practitioners can themselves learn how to develop effective and sustainable new methods. This book discusses a wide and rich range of participatory methods. The first part of the book focuses on Reflect and the Internal Learning System (ILS). Both have evolved considerably over a number of years. In the second part of the book, the authors reflect on what enables and constrains creativity, adaptation, and innovation, using examples of many different methodologies to illustrate their discussions. These reflections come from two broad perspectives: from innovators who have all worked principally as independent development consultants and advisors, and from researchers. These two common positions in the world of development and aid give rise to different challenges in creating and using participatory methodologies.
Prelims (Contents, About the Authors, Glossary of participatory methods and tools discussed in this book, List of acronyms, List of figures, tables and boxes)

1. Introduction

Karen Brock, Jethro Pettit

2. Seeds of success are seeds for potential failure: learning from the evolution of Reflect

David Archer

3. Training and facilitation: the propellers of participatory methodologies

Maria Nandago

4. Can an international NGO practise what it preaches in participation? The case of ActionAid International

Kate Newman

5. It's not just about the pictures! It's also about principles, process and power: tensions in the development of the Internal Learning System

Helzi Noponen

6. Steering the boat of life with the Internal Learning System: the oar of learning

D. Narendranath

7.Evolution of the Internal Learning System: a case study of the New Entity for Social Action

Sundaram Nagasundari

8. Road to the foot of the mountain, but reaching for the sun: PALS adventures and challenges

Linda Mayoux

9. Keeping the art of participation bubbling: some reflections on what stimulates creativity in using participatory methods

Dee Jupp

10. HIV and AIDS, the global tsunami: the role of Stepping Stones as one participatory approach to diminish its onslaught

Alice Welbourn

11. Using numerical data from participatory research to support the Millennium Development Goals: the case for locally owned information systems

Sarah Levy

12. Participatory village poverty reduction planning and index-based poverty mapping in China

Joe Remenyi

13. Navigating the trade-offs in the use of participatory approaches for research

Carlos Barahona, Dee Jupp, Helzi Noponen, Alice Welbourn

14. Creating, evolving and supporting participatory methodologies: lessons for funders and innovators

Robert Chambers

Back matter (Endnotes, References, Index)
Karen Brock Karen Brock is a social scientist, editor, and development consultant, and was formerly a researcher in the Participation Group at IDS, University of Sussex, UK. She specialises in issues of natural resources management, social science research methodologies, policy processes, and agropastoral livelihoods in Africa.|Jethro Pettit is a fellow at the Institute of Development Studies, UK. He has worked with international NGOs, including World Neighbors and Oxfam America.
Jethro Pettit Jethro Pettit is a fellow at the Institute of Development Studies, UK. He has worked with international NGOs, including World Neighbors and Oxfam America.
Conceptualising the FinDD API plug-in: A study of BIM-FM integration
Pärn, E.A.
Edwards, D.J.
Automation in Construction, Vol. 80 (2017), Iss. P.11
https://doi.org/10.1016/j.autcon.2017.03.015
[Citations: 71]
Using participatory action research to improve immunization utilization in areas with pockets of unimmunized children in Nigeria
Akwataghibe, Ngozi N.
Ogunsola, Elijah A.
Popoola, Oluwafemi A.
Agbo, Adanna I.
Dieleman, Marjolein A.
Health Research Policy and Systems, Vol. 19 (2021), Iss. S2
https://doi.org/10.1186/s12961-021-00719-9
[Citations: 0]
People's Participation in Disaster-Risk Reduction: Recentering Power
Hore, Katherine
Gaillard, J. C.
Davies, Tim
Kearns, Robin
Natural Hazards Review, Vol. 21 (2020), Iss. 2
https://doi.org/10.1061/(ASCE)NH.1527-6996.0000353
[Citations: 11]
Participation and Poverty
Chambers, Robert
Development, Vol. 50 (2007), Iss. 2 P.20
https://doi.org/10.1057/palgrave.development.1100382
[Citations: 20]
Listen First: a pilot system for managing downward accountability in NGOs
Jacobs, Alex
Wilford, Robyn
Development in Practice, Vol. 20 (2010), Iss. 7 P.797
https://doi.org/10.1080/09614524.2010.508113
[Citations: 40]