Book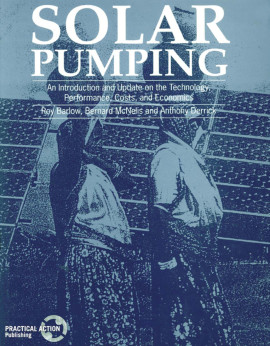 Solar Pumping
An introduction and update on the technology, performance, costs and economics
Published: 1993
Pages: 166

eBook: 9781780445984
Paperback: 9781853391798
This is a practical handbook providing an introduction to the equipment, maintenance and operation of solar pumping systems. It identifies situations where solar pumps may be appropriate and it reviews developments in solar pumping technology.
1. INTRODUCTION 1

1.1. Purpose of this book 1

1.2. The first decade of PV pumping 1

2. WHEN TO USE SOLAR PUMPS 4

2.1. Energy requirements for water pumping 4

2.2. Solar energy 7

2.3. Typical water pumping applications 7

2.4. Physical and economic factors 9

2.5. Case Studies 12

3. SOLAR PUMPING TECHNOLOGY 18

3.1. Introduction to Photovoltaics 18

3.2. Photovoltaic arrays 20

3.3. Motors and pumps 23

3.4. Power conditioning 30

3.5. Storage and distribution 31

3.6. Operation and performance 35

4. AVAILABLE EQUIPMENT 38

4.1. Range 38

4.2. Operational specifications 40

4.3. System costs 40

4.4. Component costs 46

4.5. Specimen systems for typical loads 48

4.6. Future trends in costs 49

5. GENERAL FIELD EXPERIENCE 50

5.1. Characteristics of installations 50

5.2. Performance 56

5.3. Reliability 59

5.4. Non-economic factors 60

6. SITE AND SYSTEM EVALUATION FOR VILLAGE WATER SUPPLY 62

6.1. Physical system layout 64

6.2. Groundwater resources 64

6.3. The solar resource 67

6.4. Water requirements 69

6.5. Array sizing 71

6.6. Estimating performance 75

7. SITE AND SYSTEM EVALUATION FOR IRRIGATION PUMPING 79

7.1. Physical system layout 80

7.2. Crop water requirements 82

7.3. Array sizing 86

7.4. Performance and optimisation 87

8. PRACTICAL COST APPRAISAL 91

8.1. Economic evaluation 91

8.2. Cost appraisal of water pumping 96

8.3 Guidance on Costs 103

9. IMPLEMENTATION AND OPERATION 107

9.1. System selection 107

9.2. Procurement 108

9.3. Installation and operation Ill

9.4. Maintenance 112

9.5. Monitoring and evaluation 112

BIBLIOGRAPHY 114

GLOSSARY OF TERMS 116

APPENDICES

Appendix A: Global daily isolation maps 121

Appendix B: Summary of manufacturers data 126

Appendix C: List of major manufacturers and distributors 130

Appendix D: Specimen systems for given pumping scenarios 131

Appendix E: Breakdown of system costs by configuration 135

Appendix F: Discount factors for life-cycle cost analyses 137

Appendix G: Quick reference data for wind, diesel and hand pumping 139

Appendix H: Example of a PV pump life-cycle costing 145

Appendix I: The economics of PV pumping 148
Roy Barlow
Roy Barlow is a photovoltaic specialists with IT Power, an international firm of energy and environment consultants.
Recent advances in solar photovoltaic systems for emerging trends and advanced applications
Pandey, A.K.
Tyagi, V.V.
Selvaraj, Jeyraj A/L
Rahim, N.A.
Tyagi, S.K.
Renewable and Sustainable Energy Reviews, Vol. 53 (2016), Iss. P.859
https://doi.org/10.1016/j.rser.2015.09.043
[Citations: 193]
Towards a Cleaner Planet
Converting Solar Radiation to Electric Power in Mexico
Gonzalez, Antonio Jimenez
Sanchez-Juarez, Aaron
Fernandez, Arturo
Mathew, Xavier
Sebastian, P J
2007
https://doi.org/10.1007/978-3-540-71345-6_19
[Citations: 0]
Optimization of Irrigation with Photovoltaic Pumping System
Glasnovic, Zvonimir
Margeta, Jure
Water Resources Management, Vol. 21 (2007), Iss. 8 P.1277
https://doi.org/10.1007/s11269-006-9081-8
[Citations: 11]
Design and Performance of Photovoltaic Water Pumping Systems: Comprehensive Review towards a Renewable Strategy for Mozambique
Chilundo, Rosa J.
Mahanjane, Urânio S.
Neves, Diana
Journal of Power and Energy Engineering, Vol. 06 (2018), Iss. 07 P.32
https://doi.org/10.4236/jpee.2018.67003
[Citations: 7]
Optimization of photovoltaic water pumping systems for date palm irrigation in the Saharan regions of Algeria: increasing economic viability with multiple-crop irrigation
Bouzidi, B.
Campana, P. E.
Energy, Ecology and Environment, Vol. 6 (2021), Iss. 4 P.316
https://doi.org/10.1007/s40974-020-00195-x
[Citations: 8]
Photovoltaic energy systems and rural electrification
Davis, Mark
Development Southern Africa, Vol. 12 (1995), Iss. 5 P.637
https://doi.org/10.1080/03768359508439846
[Citations: 4]
Maximum Area That Can Be Economically Irrigated by Solar Photovoltaic Pumping System
Glasnovic, Zvonimir
Margeta, Jure
Journal of Irrigation and Drainage Engineering, Vol. 135 (2009), Iss. 1 P.44
https://doi.org/10.1061/(ASCE)0733-9437(2009)135:1(44)
[Citations: 8]
Solar Powered Water Pumps: The Past, the Present—and the Future?
Short, T. D.
Oldach, R.
Journal of Solar Energy Engineering, Vol. 125 (2003), Iss. 1 P.76
https://doi.org/10.1115/1.1528923
[Citations: 29]
A wind-solar PV hybrid power system with battery backup for water pumping in remote localities
Rehman, Shafiqur
Sahin, Ahmet Z.
International Journal of Green Energy, Vol. 13 (2016), Iss. 11 P.1075
https://doi.org/10.1080/15435075.2012.729169
[Citations: 33]
Energy-Efficient Autonomous Solar Water-Pumping System for Permanent-Magnet Synchronous Motors
Antonello, Riccardo
Carraro, Matteo
Costabeber, Alessandro
Tinazzi, Fabio
Zigliotto, Mauro
IEEE Transactions on Industrial Electronics, Vol. 64 (2017), Iss. 1 P.43
https://doi.org/10.1109/TIE.2016.2595480
[Citations: 91]
A comparison of diesel, biodiesel and solar PV-based water pumping systems in the context of rural Nepal
Parajuli, Ranjan
Pokharel, Govind Raj
Østergaard, Poul Alberg
International Journal of Sustainable Energy, Vol. 33 (2014), Iss. 3 P.536
https://doi.org/10.1080/14786451.2012.761221
[Citations: 12]
Renewable Energy in the Service of Mankind Vol II
Optimizing Photovoltaic Water Pumping Systems for Developing Countries Through the Addition of a Novel Induced-flow Subsystem
Davies, N.
Short, T. D.
Hassan, A.
2016
https://doi.org/10.1007/978-3-319-18215-5_43
[Citations: 0]