Book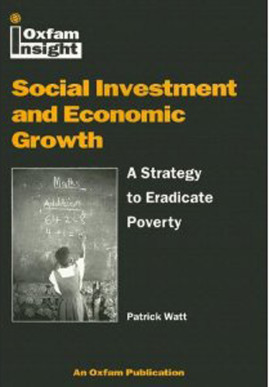 Social Investment and Economic Growth
A Strategy to Eradicate Poverty
Published: 2000
Pages: 128

eBook: 9780855988524
Paperback: 9780855984342
This book argues with global examples that absolute poverty is not an inevitable consequence of economic growth, and that equitable economic growth is necessary to secure the eradication of poverty. The author contends that the benefits of economic growth need to be invested in developing social and political structures that can foster sustainable democracy and accountability and develop a mature civil society. Without such structures underpinning it, economic growth is unsustainable. To achieve the goal of development for all, labour-intensive growth must be accompanied by public investment in basic universal social services. With examples drawn from East Asia, sub-Saharan Africa, Patrick Watt offers detailed and realistic plicy recommendations for using wealth creation to meet the needs of those - one quarter of ther worlds population - who survive on less than one dollar a day. This book is one of a series which presents evidence that supports and develops advocacy work of Oxfam on behalf of poor communities.
Acknowledgements

Introduction

Chapter 1 Growth, equity, and poverty eradication

Growth, poverty, and equity

The role of distribution in poverty eradication

The relationship between inequality and growth

Chapter 2 Social investiment

Getting the fundamental right

Problems with the market in social provision

Social provision: access, quality, and equity

Distribution is the key

Raising demand for social provision

Social provision: policy guideliness for equity , poverty reduction, and growth

Chapter 3 Livelihoods

Labour, equity, and poverty eradication

Urbanisationand the changing face of poverty

Rural livelihoods and poverty eradication

Globalisation: new pressures on livelihoods

Livelihhods: policy guidelines for equity, poverty reduction, and growth

Chapter 4 Policy recommendations for growth, equity, and poverty reduction

Social investment

Livelihoods

Globalisation, poverty, and equity

Notes

Index.
An investment strategy for effective town development in the western cape, South Africa
van der Merwe, Izak
Ferreira, Sanette
Zietsman, Larry
Urban Forum, Vol. 16 (2005), Iss. 4 P.295
https://doi.org/10.1007/s12132-005-0008-x
[Citations: 7]
Parents and childrens perception of the challenges of acquiring primary and post-primary education in rural communities of Rivers State
Nelly, O. Kusimo
Adam, A. Opeloyeru
Salome, A. Simon
Michael, O. Kusimo
Ayoka, Mopelola Olusakin
International NGO Journal, Vol. 14 (2019), Iss. 2 P.6
https://doi.org/10.5897/INGOJ2019.0334
[Citations: 0]
The role of the informal economy in promoting urban sustainability: Evidence from a small Zimbabwean town.
Magidi, Martin
Development Southern Africa, Vol. 39 (2022), Iss. 2 P.209
https://doi.org/10.1080/0376835X.2021.1925088
[Citations: 2]