Book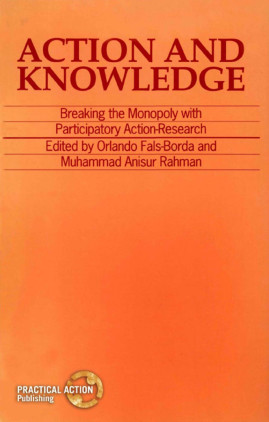 Action and Knowledge
Breaking the monopoly with Participatory Action Research
Published: 1991
Pages: 192

eBook: 9781780444239
Paperback: 9781853390982
Technical problems require technical solutions that are innovative, simple, cheap, robust and easy to maintain. This book lists 100 winning inventions in the first International Inventors Award competition, organized in Stockholm.
PART I: INTRODUCTION

1. Some Basic Ingredients, Orlando Fals-Borda 3

2. The Theoretical Standpoint of PAR, Muhammad Anisur Rahman 13

3. A Self-Review of PAR, Muhammad Anisur Rahman and Orlando Fals-Borda 24

PART II: VIVENCIAS

4. Together Against the Computer: PAR and the Struggle of Afro-Colombians for Public Service, Gustavo I. de Roux 37

5. Young Laborers in Bogota: Breaking Authoritarian Ramparts, Maria Cristina Salazar 54

6. Action and Participatory Research: A Case of Peasant Organization, Vera Gianotten and Ton de Wit 64

7. Glimpses of the "Other Africa," Muhammad Anisur Rahman 84

8. People's Power in Zimbabwe, Sithembiso Nyoni 109

9. Toward a Knowledge Democracy: Viewpoints on Participatory Research in North America, John Gaventa 121

PART III STEPS IN PRAXIOLOGY

10. Stimulation of Self-Reliant Initiatives by Sensitized Agents: Some Lessons from Practice, S. Tilakaratna 135

11. Remaking Knowledge, Orlando Fals-Borda 146

References and Further Reading 167
Orlando Fals-Borda
Orlando Fals-Borda died in 2008. His perspective built a singular bond between science and politics that changed dramatically the relations between society and knowledge. An essential part of his effort was centered on the construction of a perspective from the border and the periphery, focused on the subordination conditions of the Latin American societies
Muhammad Anisur Rahman Muhammad Anisur Rahman is a former Professor of economics at the University of Dacca, Bangladesh; coordinator of the Programme on Participatory Organisations of the Rural Poor (PORP), Rural Employment Policies Branch, Employment and Development Department, International Labour Office (Geneva); and author of several publications on people's participation.