Book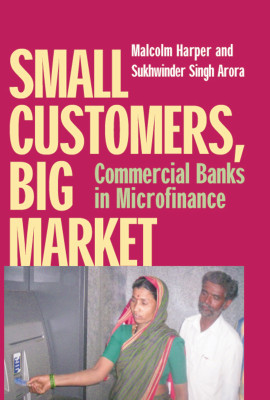 Small Customers, Big Market
Commercial Banks in Microfinance
Published: 2005
Pages: 208

eBook: 9781780440965
Paperback: 9781853396083
This book shows commercial bankers that they can profitably provide microfinance services to the poor. It illustrates, through the experience of particular banks, why banks have become involved and how they have made a success of their involvement.
The eighteen case studies all show that banks can earn good profits at the same time as serving the needs of people who previously lacked access to financial services.
The authors also demonstrate to foreign aid donors, policymakers, NGO staff and microfinance practitioners that it is often quicker, less expensive and more effective for micro-finance services to be provided by commercial banks than by specialist microfinance institutions.
Contents

Preface

Acknowledgments

Introduction: Why should commercial banks be interested in microfinance?

Part I: CASE STUDIES

1. 'The micro-banking division of Bank Rakyat Indonesia: a flagship of rural micro-finance in Asia' by Hans Dieter Seibe

2. 'Mainstreaming Grameen Banking' by Fabrizio Felloni, Hans Dieter Seibel and Andres Cornejo

3. 'The Bank of Khyber' by Amjad Ali Arbab

4. 'Wholesale microfinance: Sonali Bank, Bangladesh' by M. Abdul Awal and Abul Kalam Azad

5. 'Microfinance through self-help groups: an Indian Experiment – case study of the State Bank of India' by Vijay Kulkarni

6. 'Canara Bank, alanganallur Branch, madurai district, Tamil Nadu, India' by R. Srinivasan

7. 'Oriental Bank of Commerce's microfinance project' by Ravinder Yadav

8. 'Icici Bank' by Tara Nair, M.S. Sriram and Viswanath Prasad

9. 'Microfinance at Banque du Caire, Egypt' by Cathryn Carlson

10. 'Strategic partnerships in microfinance: the case of the Commercial Bank of Zimbabwe' by Kenneth Rufasha

11. 'Equity Building Society's market-led approach to microfinance in Kenya' by Graham A.N. Wright and James Mwangi

12. 'FINADEV SA: the first commercial bank in microfinance in West Africa-Benin' by Laté Lawson and Herman Messan

13. 'Banco Solidario' by Melita Sawyer and María Soledad Jarrín

14. 'Bancafé, Guatemala' by Job Blijdenstein

15. 'The service company model: Sogesol in Haiti' by Elizabeth Rhyne

16. 'The American Bank of Kosovo (ABK)' by Veronica Gilbert and Roshika Singh

17. 'Commercial banks in microfinance in Georgia' by Teona Mikadze and Guillemette Jaffrin

18. 'Agricultural Bank of Mongolia' by J. Peter Morrow, Jay Dyer and Robin Young

Part II: CONCLUSIONS

Index
Malcolm Harper
Malcolm Harper taught at Cranfield School of Management until 1995, and since then has worked mainly in India. He has published on enterprise development and microfinance. He was Chairman of Basix Finance from 1996 until 2006, and is Chairman of M-CRIL, the microfinance credit rating agency.
Sukhwinder Arora Sukhwinder Arora is Senior Consultant, Financial and Private Sector Development, Oxford Policy Management Ltd, Oxford.
Mediating Production, Re-powering Patriarchy: The Case of Micro Credit
Jitha, T.J.
Indian Journal of Gender Studies, Vol. 20 (2013), Iss. 2 P.253
https://doi.org/10.1177/0971521513482219
[Citations: 1]
A cross-country analysis to investigate the true role of microfinance institutions in developed and developing economies
Saeed, Muhammad Sajid
Journal of Sustainable Finance & Investment, Vol. 4 (2014), Iss. 2 P.176
https://doi.org/10.1080/20430795.2014.883301
[Citations: 1]
Microfinance in LDCs: Multipurpose NGOs Linkage Models
Sanseverino, Chiara
(2007)
https://doi.org/10.2139/ssrn.980688
[Citations: 0]