Book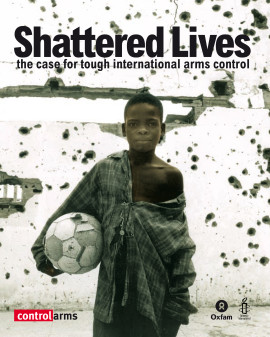 Shattered Lives
The case for tough international arms control
Published: 2003
Pages: 98

eBook: 9780855988517
Paperback: 9780855985226
Arms are out of control. Arms kill more than half a million men, women, and children on average every year. Many thousands more are maimed, or tortured, or forced to flee their homes. The uncontrolled proliferation of arms fuels human rights violations, escalates conflicts, and intensifies poverty. The time for world leaders to act is now. to confront this crisis, Oxfam, Amnesty International, and the International Action Network on Small Arms (IANSA) have together launched an international campaign calling for effective arms controls to make people genuinely safer from the threat of armed violence. This volume provides a hard-hitting analysis of how abuse of small arms across the world is fuelling poverty and suffering.
1. Arms- security for whom?

2. The human cost of arms abuse

3. Why act now?

4. The arms bazaar

5. Solutions at all levels

6. The time for action

Appendix

Notes
The impact of violence on development in low- to middle-income countries
Bowman, Brett
Matzopoulos, Richard
Butchart, Alexander
Mercy, James A.
International Journal of Injury Control and Safety Promotion, Vol. 15 (2008), Iss. 4 P.209
https://doi.org/10.1080/17457300802417911
[Citations: 19]
An exploration of violence, mental health and substance abuse in post-conflict Guatemala
Branas, Charles C.
Dinardo, Andrew R.
Polanco, Victor D. Puac
Harvey, Michael J.
Vassy, Jason L.
Bream, Kent
Health, Vol. 05 (2013), Iss. 05 P.825
https://doi.org/10.4236/health.2013.55109
[Citations: 11]
ЗАСТОСУВАННЯ МОДЕЛІ НАСКРІЗНОЇ ОПТИМІЗАЦІЇ ФІНАНСОВИХ І МАТЕРІАЛЬНИХ ПОТОКІВ У МЕХАНІЗМІ ЗАБЕЗПЕЧЕННЯ ФІНАНСОВОЇ БЕЗПЕКИ НА ПІДПРИЄМСТВАХ ОБОРОННОЇ ПРОМИСЛОВОСТІ
Financial and credit activity problems of theory and practice, Vol. 2 (2021), Iss. 33 P.400
https://doi.org/10.18371/fcaptp.v2i33.207078
[Citations: 3]
Using evidence to influence policy: Oxfam's experience
Mayne, Ruth
Green, Duncan
Guijt, Irene
Walsh, Martin
English, Richard
Cairney, Paul
Palgrave Communications, Vol. 4 (2018), Iss. 1
https://doi.org/10.1057/s41599-018-0176-7
[Citations: 25]
Previous Violent Events and Mental Health Outcomes in Guatemala
Puac-Polanco, Victor D.
Lopez-Soto, Victor A.
Kohn, Robert
Xie, Dawei
Richmond, Therese S.
Branas, Charles C.
American Journal of Public Health, Vol. 105 (2015), Iss. 4 P.764
https://doi.org/10.2105/AJPH.2014.302328
[Citations: 28]