Book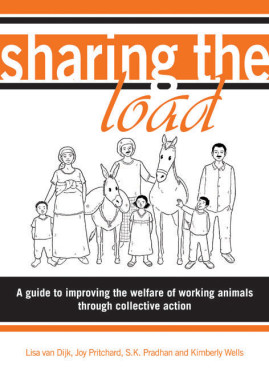 Promoting the welfare of working animals is important not only for the sake of the animals themselves, but for the livelihoods of their owners. Sharing the Load aims to stimulate collective action among animal-owning communities to improve the health and husbandry of their draught and pack animals, by applying the methods of community facilitation and collective action to the pursuit of animal welfare. Since 2005, the Brooke has been pioneering the integration of animal welfare science with best practice from the international development sector to build communities' responsibility for sustained improvement in the welfare of their working animals. Sharing the Load documents the outcome of four years' development of this process and includes field-based participatory methods and tools designed specifically for this purpose, using lively illustrations and text boxes in accessible language on the theory of development practice and animal welfare science. Sharing the Load should be read by anyone who has direct contact with working animals and their owners, including veterinarians, community-based animal health workers, government extension workers and the staff of rural development NGOs.
Prelims (Figs, Tables, Case Studies, Preface, Acknowledgments, Symbols used in the text, Acronyms)

Introduction

Part I: Working animals and their welfare

1. Working animals and the communities - who own them

2. Animal welfare

Part II: Implementing animal welfare interventions with communities

3. Interventions for lasting change

4.Facilitation for collective action

5. Reaching out to promote animal welfare

PART III: Participatory action tools for animal welfare

6. Participatory action tools for animal welfare

Back Matter (References and further reading)
Joy C. Pritchard
Dr Joy Pritchard is Senior Animal Welfare and Research Advisor at The Brooke. She is an experienced veterinary surgeon and animal scientist specializing in the health, welfare and productivity of animals in international development contexts.
Subir K. Pradhan
S.K. Pradhan is a Community Development Manager with The Brooke, India. He is a specialist in animal science and agriculture with expertise in participatory development in the rural sector, and has worked with The Brooke in Egypt, Pakistan, Ethiopia and Kenya as well as India.
Kimberley L. Wells
Kimberly Wells is a Working Equine Behaviour and Welfare Advisor with The Brooke, where she facilitates training workshops and provides technical advice across the Brooke's global programmes.
A Two-Year Participatory Intervention Project with Owners to Reduce Lameness and Limb Abnormalities in Working Horses in Jaipur, India
Reix, Christine E.
Dikshit, Amit K.
Hockenhull, Jo
Parker, Richard M. A.
Banerjee, Anindo
Burn, Charlotte C.
Pritchard, Joy C.
Whay, Helen R.
Kaltenboeck, Bernhard
PLOS ONE, Vol. 10 (2015), Iss. 4 P.e0124342
https://doi.org/10.1371/journal.pone.0124342
[Citations: 5]
Animal traction and transport in the 21st century: Getting the priorities right
Pritchard, Joy C.
The Veterinary Journal, Vol. 186 (2010), Iss. 3 P.271
https://doi.org/10.1016/j.tvjl.2010.08.004
[Citations: 24]
Donkeys in development: welfare assessments and knowledge mobilisation
Geiger, Martha
Hovorka, Alice
Development in Practice, Vol. 25 (2015), Iss. 8 P.1091
https://doi.org/10.1080/09614524.2015.1078776
[Citations: 6]
A standardised equine-based welfare assessment tool used for six years in low and middle income countries
Sommerville, Rebecca
Brown, Ashleigh F.
Upjohn, Melissa
Munderloh, Ulrike Gertrud
PLOS ONE, Vol. 13 (2018), Iss. 2 P.e0192354
https://doi.org/10.1371/journal.pone.0192354
[Citations: 23]
Animal performativity: Exploring the lives of donkeys in Botswana
Geiger, Martha
Hovorka, Alice J
Environment and Planning D: Society and Space, Vol. 33 (2015), Iss. 6 P.1098
https://doi.org/10.1177/0263775815604922
[Citations: 21]