Book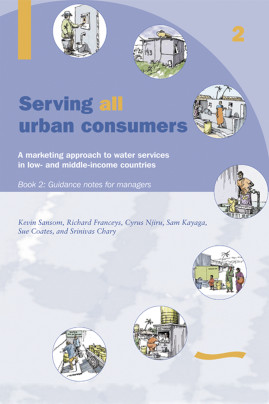 Serving All Urban Cunsumers: A Marketing Approach to Water Services in Low- and Middle-income Countries: Book 2 - Guidance Notes for Managers
Published: 2004
Pages: 252

Paperback: 9781843800552
This book is one of a series of six publications that consider how water utilities working with other key stakeholders, can meet the needs and demands of urban water consumers - including the poor - through developing an understanding of the needs and demands of all consumer groups, and by the adaptation of marketing/commercial approaches.

A key question that is considered in this book (Book 2) is how best marketing approaches to utility management can be adapted to serve low-income areas so that sustainable services are achieved.

The main target audience of this book is utility managers in low- and middle-income countries who are interested in innovative ways of serving more of their consumers. Many examples of applying different and useful marketing approaches for the urban water sector are provided, including guidance on pilot programmes for serving the poor and scaling up to city wide strategic marketing approaches.