Book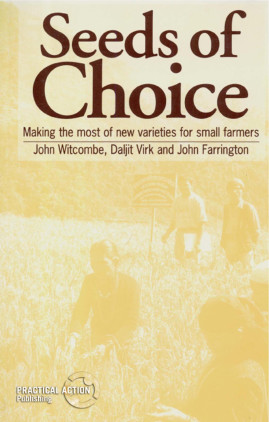 Seeds of Choice provides an in-depth analysis of the regulatory frameworks that cover varietal testing, release and dissemination of seeds. This book analyses the varietal testing system used by the All India Co-ordinated Crop Improvement Projects. The study reveals that reforms are needed if a greater choice of varieties are to be provided to meet the diverse needs of farmers in widely differing agro-ecological situations. The evidence presented in this book shows that attempts to increase the involvement of farmers in crop improvement would be the most promising reform to the system. The challenge is to incorporate farmer participation as an integral part of the varietal testing system. Seeds of Choice is addressed to all those concerned with crop improvement, such as plant breeders and agricultural extensionists, agricultural development workers, including researchers, policymakers, donors, voluntary agencies and commercial seed producers.
Foreword v

Preface vii

Acknowledgements ix

List of Abbreviations xi

Regulatory Frameworks: Why do We Need Them? xvii

J. Farrington and J.R. Witcombe

Part 1: An Analysis of Varietal Testing

1. Introduction 3

D.S. Virk and J.R. Witcombe

2. Trial Testing Sites in the All India Coordinated Projects— 7

How well do they Represent Agro-ecological Zones and Farmers' Fields?

A.J. Packwood, D.S. Virk and J.R. Witcombe

3. Resource Allocation and Efficiency of the Varietal Testing System 27

J.R. Witcombe, D.S. Virk and A.G.B. Raj

Part 2: Varietal Release and Popularization

4. Introduction 47

P.S. Sodhi, D.S. Virk and J.R. Witcombe

5. The Extent and Rate of Adoption of Modern Cultivars in India 53

J.R. Witcombe, A.J. Packwood, A.G.B. Raj and D.S. Virk

6. The Regulatory Framework for Varietal Testing and Release in India 69

D.S. Virk

1. Release and Popularization of Cultivars in Rajasthan 85

K.L. Vyas

8. Release and Popularization of Cultivars in Madhya Pradesh 105

Y.M. Upadhyaya

9. Release and Popularization of Cultivars in Gujarat 119

E.G. Jaisani

10. Introduction 135

J.R. Witcombe

11. Participatory Approaches in Pearl Millet Breeding 143

E. Weltzien R., M.L. Whitaker, H.F.W. Rattunde,

M. Dhamotharan and MM. Anders

12. Fanner Participatory Approaches for Varietal Improvement 171

A. Joshi and J.R. Witcombe

13. Participatory Breeding in Rice 191

R. Thakur

Part 4: Scaling up

14. Introduction 201

P.S. Sodhi, A. Joshi and J.R. Witcombe

15. The Role of NGOs in the Popularization of Varieties:

A Case-study from Western India 205

M. Garg, P.S. Sodhi and A. Joshi

Part 5: Bibliography and Annexes

Bibliography 215

Annexes 1 to 4 221

List of Contributors 255

Subject Index 257

Author Index - 269
John Witcombe
Professor John Witcombe is Director of CAZS-NR at Bangor University. His research interests include Farmer participation in development of agricultural technologies, Participatory plant breeding and participatory varietal selection, Plant breeding, Marker-assisted selection, Agricultural biodiversity
John Farrington
John Farrington is with the Overseas Development Institute.
How process-based modeling can help plant breeding deal with G x E x M interactions
Hajjarpoor, Amir
Nelson, William C.D.
Vadez, Vincent
Field Crops Research, Vol. 283 (2022), Iss. P.108554
https://doi.org/10.1016/j.fcr.2022.108554
[Citations: 0]
Information and agricultural input markets: pearl millet seed in Rajasthan
Tripp, Robert
Pal, Suresh
Journal of International Development, Vol. 12 (2000), Iss. 1 P.133
https://doi.org/10.1002/(SICI)1099-1328(200001)12:1<133::AID-JID625>3.0.CO;2-J
[Citations: 11]
Geographies of Seed Networks for Food Plants (Potato, Ulluco) and Approaches to Agrobiodiversity Conservation in the Andean Countries
ZIMMERER, KARL S.
Society & Natural Resources, Vol. 16 (2003), Iss. 7 P.583
https://doi.org/10.1080/08941920309185
[Citations: 57]
Biological Diversity in Agriculture and Global Change
Zimmerer, Karl S.
Annual Review of Environment and Resources, Vol. 35 (2010), Iss. 1 P.137
https://doi.org/10.1146/annurev-environ-040309-113840
[Citations: 70]
Balancing public and private sector roles in an effective seed supply system
Loch, D.S
Boyce, K.G
Field Crops Research, Vol. 84 (2003), Iss. 1-2 P.105
https://doi.org/10.1016/S0378-4290(03)00144-8
[Citations: 5]
Plant Breeding
Collection, Conservation and Utilization of Plant Genetic Resources
Gautam, P. L.
Singh, B. B.
Saxena, Sanjeev
Sharma, Rajiv K.
2004
https://doi.org/10.1007/978-94-007-1040-5_28
[Citations: 0]
A biological framework for understanding farmers' plant breeding
Cleveland, David A.
Daniela, Soleri
Smith, Steven E.
Economic Botany, Vol. 54 (2000), Iss. 3 P.377
https://doi.org/10.1007/BF02864788
[Citations: 36]
Sweet Potato Virus Disease in Sub-Saharan Africa: Evidence that Neglect of Seedlings in the Traditional Farming System Hinders the Development of Superior Resistant Landraces
Gibson, R. W.
Jeremiah, S. C.
Aritua, V.
Msabaha, R. P.
Mpembe, I.
Ndunguru, J.
Journal of Phytopathology, Vol. 148 (2000), Iss. 7-8 P.441
https://doi.org/10.1046/j.1439-0434.2000.00529.x
[Citations: 25]