Book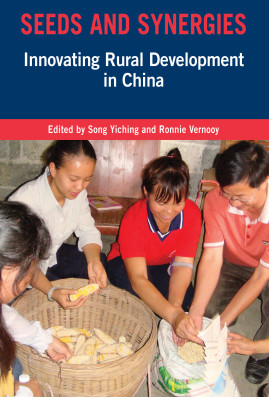 Seeds and Synergies
Innovation in rural development in China
Published: 2010
Pages: 152

eBook: 9781780440330
Paperback: 9781853397059
Farmers and researchers too often live and work in different realities. Researchers breed plant hybrids in the laboratory that are successful only under ideal conditions, requiring just the right inputs of water, fertilizer, and pesticides. For resource-poor farmers, however, such conditions simply don't exist. As a result, they either obtain poor results from high-tech seeds or continue to do the best they can with local varieties. Seeds and Synergies reflects on the innovative efforts of a group of Chinese researchers and extension agents to connect scientists and farmers. Their action research has enabled indigenous women and men in local communities to improve maize varieties jointly with professional plant breeders. This has invigorated maize production, created new livelihoods, and strengthened organizational capacities. The research has also resulted in policy changes in plant breeding, in the conservation of agricultural biodiversity, in the protection of indigenous knowledge, in farmer organization, and in the provision of services, notably extension. This book will be of particular interest to rural development scholars, researchers, teachers and trainers, and field-level practitioners.
Prelims (Foreword - Huang Jikun,Preface - Ronnie Vernooy and Song Yiching)

1. Searching for synergy

Song Yiching and Ronnie Vernooy

2. Maize and the formal agricultural research and development system: evolution, challenges and alternatives

Zhang Shihuang, Huang Kaijian and Song Yiching

3. Farmers' changing livelihood strategies in rural

Guangxi Song Yiching, Wang Xiufen, Li Jingsong and Ronnie Vernooy

4. Seeds of inspiration: breathing new life into the formal agricultural research and development system

Song Yiching, Zhang Shihuang, Huang Kaijian, Qin Lanqiun, Li Jingsong and Ronnie Vernooy, with the collaboration of farmer plant breeders from Wentan, Guzhai and Gushang villages and Dujie township

5. Farmer cooperation and organization: new challenges, new networks, new identities

Yang Huan, with Gao Xiaowei and Li Jingsong

6. Opening our eyes: renewing the Chinese public extension system

Zhang Li, with Luo Haichun, Huang Bailing and Pan Qunying

7. Changing rural development in China

Ronnie Vernooy and Song Yiching

Back Matter (References and Index)
Yiching Song Song Yiching is a social scientist with a special interest in rural development (especially working with women), farmer organizations, and agricultural extension. She is currently a senior research scientist at the Centre for Chinese Agricultural Policy, Chinese Academy of Science in Beijing, leading a long-term action research programme to create synergies between the seed systems of farmers and the Chinese Government.
Ronnie Vernooy Ronnie Vernooy has been involved with the research in Guangxi providing technical and financial support, and has written a series of publications which have been published as journal articles, book chapters, and conference papers.