Book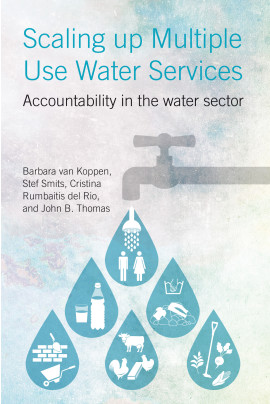 Poor people in developing countries need water for many purposes: for drinking, bathing, irrigating vegetable gardens, and watering livestock. However, responsibility for water services is divided between different government agencies, the WASH (Water, Sanitation and Hygiene) and irrigation sub-sectors, with the result that people's holistic needs are not met. Multiple use water services (MUS) is a participatory water services approach that takes account of poor people's multiple water needs as a starting point of planning, and the approach has been implemented in at least 22 countries in Africa, Asia and Latin America. Scaling up Multiple Use Water Services argues that by designing cost-effective multi-purpose infrastructure MUS can have a positive impact on people's health and livelihoods. It analyses and explains the success factors of MUS, using a framework of accountability for public service delivery, and it also examines why there has been resistance against scaling up MUS. A stronger service delivery approach can overcome this resistance, by rewarding more livelihood outcomes, by fostering discretionary decision-making power of local-level staff and by allowing horizontal coordination.This book should be read by government and aid agency policy makers in the WASH and agriculture sectors, by development field workers, and by academics, researchers and students of international development.
Prelims (Preface, Acknowledgements, Acronyms)
1 Rationale and aim
2 At the crossroads of accountability in public services and multiple use water services
3 The higher human development performance of MUS
4 Scaling up the +plus approaches
5 Scaling up MUS-by-design
6 Implicit MUS in local and community-driven development
7 Conclusions and recommendations
References

Barbara van Koppen
Barbara van Koppen is a Principal Researcher at the International Water Management Institute, South Africa.
Stef Smits
Stef Smits is Senior Programme Officer, IRC International Water and Sanitation Centre, Netherlands.
Cristina Rumbaitis del Rio
Cristina Rumbaitis del Rio is Senior Associate Director, The Rockefeller Foundation, USA
John Thomas
John B. Thomas is Program Associate, The Rockefeller Foundation, USA.