Book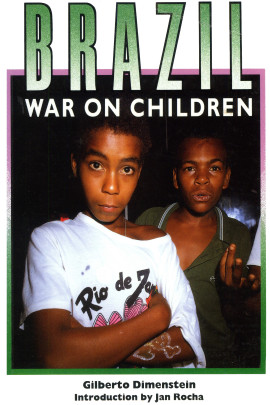 Brazil: War on Children
Published: 1991
Pages: 96

eBook: 9781909013568
Paperback: 9780906156629
"Brazil: War on Children" is a journey through the underworld of Brazil's ten million street children. The author interweaves first-hand reportage, interviews and statistics to paint a picture of life for the children. He discovers a world of pimps, muggers, prostitutes and petty criminals; homeless children who live in fear of sudden death at the hands of the off-duty police and other vigilantes who make up Brazil's death squads. Dimenstein interviews the Church workers who risk becoming death squad targets themselves by befriending the children and trying to bring them hope. He also talks to the authorities who turn a blind eye, to the killers and to the children themselves. An introduction by Jan Rocha, the "Guardian"'s Brazil correspondent, shows how the children are just the most visible casualties of one of the most inequal societies in the world. It describes the impact of the policies of President Fernando Collor de Mello on Brazil's poor.
Glossary

Preface

Map

Introduction

Contents

'My life is like the wind'

2 'I killed you because you had no future'

3 Angels of death

4 Heroes or villains?

5 Supporting murder

6 The law of silence

Resources and Action

Index
Jan Rocha, Jan Rocha is a freelance reporter and wriiter and has worked for the BBC and The Guardian
Methodological and ethical issues in research with street children: an urban and regional planner's perspectives
Ogunkan, David Victor
Quality & Quantity, Vol. 56 (2022), Iss. 3 P.1139
https://doi.org/10.1007/s11135-021-01169-9
[Citations: 0]
The 'Place' of Street Children in Kampala, Uganda: Marginalisation, Resistance, and Acceptance in the Urban Environment
Young, Lorraine
Environment and Planning D: Society and Space, Vol. 21 (2003), Iss. 5 P.607
https://doi.org/10.1068/d46j
[Citations: 60]
Rights-Bearing Street Kids: Icons of Hope and Despair in Brazil's Burgeoning Neoliberal State
DRYBREAD, KRISTEN
Law & Policy, Vol. 31 (2009), Iss. 3 P.330
https://doi.org/10.1111/j.1467-9930.2009.00304.x
[Citations: 9]
A Youth Justice Approach to the Street Children Phenomenon in Brazil: A Critical Review
Rosenblatt, Fernanda Fonseca
Youth Justice, Vol. 12 (2012), Iss. 3 P.229
https://doi.org/10.1177/1473225412461214
[Citations: 4]
Crime's Power
Wild Power in Post-Military Brazil
Linger, Daniel T.
2003
https://doi.org/10.1057/9781403980595_5
[Citations: 6]
Moncorvo Filho e o problema da infância: modelos institucionais e ideológicos da assistência à infância no Brasil
Wadsworth, James E.
Revista Brasileira de História, Vol. 19 (1999), Iss. 37 P.103
https://doi.org/10.1590/S0102-01881999000100006
[Citations: 13]
Homeless children in Rio de Janeiro: Exploring the meanings of street life
de Oliveira, Tania Chalhub
Child and Youth Care Forum, Vol. 26 (1997), Iss. 3 P.163
https://doi.org/10.1007/BF02589383
[Citations: 3]
Children of the Pátria: Representations of Childhood and Welfare State Ideologies at the 1922 Rio de Janeiro International Centennial Exposition
Wadsworth, James E.
Marko, Tamera L.
The Americas, Vol. 58 (2001), Iss. 1 P.65
https://doi.org/10.1353/tam.2001.0088
[Citations: 3]
Extrajudicial Execution of Children: Shortcomings of Social Citizenship and the Fallacy of Criminal Justice in Brazil
Fernandes, Edesio
Netherlands Quarterly of Human Rights, Vol. 12 (1994), Iss. 2 P.117
https://doi.org/10.1177/016934419401200202
[Citations: 1]
Children in the Streets of Brazil: Drug Use, Crime, Violence, and HIV Risks
Inciardi, James A.
Surratt, Hilary L.
Substance Use & Misuse, Vol. 33 (1998), Iss. 7 P.1461
https://doi.org/10.3109/10826089809069809
[Citations: 46]
Revisiting Rio De Janeiro and SãO Paulo
Godfrey, Brian J.
Geographical Review, Vol. 89 (1999), Iss. 1 P.94
https://doi.org/10.1111/j.1931-0846.1999.tb00203.x
[Citations: 1]
Child Soldiers: From Recruitment to Reintegration
Resilience Amidst Risks for Recruitment: A Case Study of 'At Risk' Children in Colombia
Burgess, Ryan
2011
https://doi.org/10.1057/9780230342927_6
[Citations: 0]