Book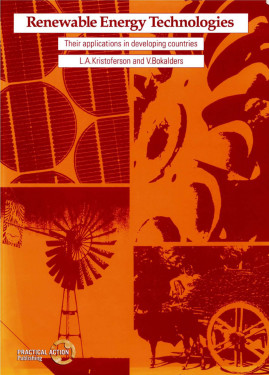 A detailed survey of the main areas of bio-energy and biomass, solar energy and hydro, wind and water power. The authors address the advantages and disadvantages of renewable energies, their appropriateness, and their socio-economic implications.
CONTENTS

PREFACE TO NEW EDITION vi

PREFACE AND ACKNOWLEDGEMENTS vii

INTRODUCTION ix

ABSTRACTS xlli

Section I BIONENERGY: PRODUCTION, CONVERSION, UTILIZATION

Chapter 1 Fuelwood: Forestry & Agroforestry 3

Chapter 2 Energy Crops 23

Chapter 3 Agricultural Residues and Organic Wastes 28

Chapter 4 Peat 36

Chapter 5 Briquetting of Biomass 45

Chapter 6 Charcoal Production 55

Chapter 7 Wood and Charcoal Stoves 71

Chapter 8 Biomasss Combustion in Small-scale Industry 92

Chapter 9 Biogas 104

Chapter 10 Draught Animal Power 119

Section II BIOMASS ENGINES AND BIOMASS ENGINE FUELS

Chapter 11 Production of Biomass Engine Fuels 135

- Solid Fuels 139

- Ethanol 141

- Methanol 143

- Vegetable oils 150

Chapter 12 Biomass Fuels in Internal Combustion Engines 154

- Alcohol fuels (ethanol & methanol) 155

- Vegetable oils 157

- Producer gas 158

Chapter 13 External Combustion Engines and use of Biomass Fuels 168

- Steam engines and steam turbines 168

- Stirling engines 174

Chapter 14 Comparison & Selection of Biomass Engines 179

SECTION III SOLAR ENERGY

Chapter 15 Solar Water Heating

Chapter 16 Photovoltaics

Chapter 17 Advanced Solar Heating Systems

Chapter 18 Solar Water Distillation

Chapter 19 Solar Driers

Chapter 20 Solar Cookers

Chapter 21 Passive Heating & Cooling of Buildings

SECTION IV HYDRO, WIND AND WATER POWER

Chapter 22 Small-scale Hydropower

Chapter 23 Ocean Power: Tidal, Wave & OTEC

Chapter 24 Wind Power

Chapter 25 Water Pumping: An Overview

Chapter 26 Wind Pumps

Chapter 27 Hand Pumps

Appendices

Appendix 1 List of Abbrevations, Units and Acronyms

Appendix 2 Conversion Tables

Appendix 3 List of Background Reports Commissioned

by the Beijer Institute
Effect of biogas technology on nutrient flows for small- and medium-scale pig farms in Vietnam
Vu, Quynh Duong
Tran, Tien Minh
Nguyen, Phuong Duy
Vu, Cuong Chi
Vu, Van Thi Khanh
Jensen, Lars Stoumann
Nutrient Cycling in Agroecosystems, Vol. 94 (2012), Iss. 1 P.1
https://doi.org/10.1007/s10705-012-9516-y
[Citations: 22]
Macro-engineering Seawater in Unique Environments
Calling upon Neptune: Ocean Energies as "Renewables"
Charlier, Roger H.
2010
https://doi.org/10.1007/978-3-642-14779-1_27
[Citations: 0]
Biogas production from broiler manure, wastewater treatment plant sludge, and greenhouse waste by anaerobic co-digestion
Sarikaya, E.
Demirer, G. N.
Journal of Renewable and Sustainable Energy, Vol. 5 (2013), Iss. 4 P.043126
https://doi.org/10.1063/1.4818771
[Citations: 12]
Agricultural waste
Marr, James B.
Facey, Roderick M.
Water Environment Research, Vol. 66 (1994), Iss. 4 P.387
https://doi.org/10.1002/j.1554-7531.1994.tb00107.x
[Citations: 1]
Investigation of Some Factors that Lead to Improved Performance vis-à-vis the Efficiency of Single Basin Solar Stills
Kwach, Charles N. O.
Ochieng, Reccab M.
Onyango, Frederick N.
Journal of Fundamentals of Renewable Energy and Applications, Vol. 1 (2010), Iss. P.1
https://doi.org/10.4303/JFREA/R101004
[Citations: 1]
Greenhouse-gas emission mitigation from the use of agricultural residues: the case of ricehusk
Bhattacharya, S.C
Arul Joe, M
Kandhekar, Zahed
Abdul Salam, P
Shrestha, R.M
Energy, Vol. 24 (1999), Iss. 1 P.43
https://doi.org/10.1016/S0360-5442(98)00066-8
[Citations: 17]
An accounting representation of sustainable agriculture practices: the case of a biogas agricultural unit in Sichuan
Simon, Sandrine
Sustainable Development, Vol. 8 (2000), Iss. 2 P.106
https://doi.org/10.1002/(SICI)1099-1719(200005)8:2<106::AID-SD129>3.0.CO;2-U
[Citations: 3]