Book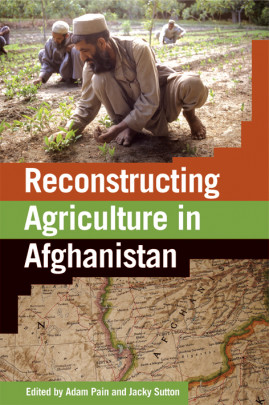 Reconstructing Agriculture in Afghanistan
Published: 2007
Pages: 320

eBook: 9781780445731
Paperback: 9781853396342
The book raises critical questions relating to both humanitarian intervention and development agendas in crisis states. It supports a growing literature that interrogates past and present interventions, but does so by putting food security at the heart of both short- and long-term responses to crisis. In this it addresses two main issues. First, to review the current understanding of agriculture and food security issues in Afghanistan. Second, to bring together lessons on the nature and practice of interventions in support of food security and agriculture, particularly in the post-2001 period. The findings are a testimony to successful interventions, and explore wider implications of building food security under conditions of political instability. The book brings together papers by key practitioners and food security analysts with knowledge of the agricultural and political economy of Afghanistan. It makes an ongoing contribution to the theories of post-war rehabilitation in fragile states, providing an important reference for operational agencies and researchers. Published in association with the Food and Agriculture Organization of the United Nations.
Forward | Acknowledgements

Introduction: Light footprints at the crossroads: Food security and resilience in Afghanistan 1. Afghanistan: The context Adam Pain 2. Rural resilience and diversity across Afghanistan's agricultural landscapes Anthony Fitzherbert 3. Rural livelihoods in Afghanistan Adam Pain 4. The evolution of food security information in Afghanistan Wendy Johnecheck 5. Towards a public nutrition response in Afghanistan: Charlotte Dufour and Annalies Borrel 6. Food security in Afghanistan after 2001: From assessment to analysis and interpretation to response Andrew Pinney and Scott Ronchini 7. Narratives of rehabilitation in Afghan agricultural interventions Ian Christoplos 8. Afghan women, Afghan livelihoods Elizabeth Stites 9. 'Economical with the truth': The limits of price and profitability David Mansfield 10. Markets in Afghanistan Adam Pain and Sarah Lister 11. Towards a framework for agricultural development and food security in Afghanistan Alberto Zezza and Mauro Migotto 12. Responding to food insecurity: Could we have done it better? Margarita Flores | Glossary of Afghan terms | Notes | References | Index
Jacky Sutton Jacky Sutton was UNESCO Regional Communication and Information Advisor for Afghanistan, Iran, Pakistan and Turkmenistan and is now Advocacy and Policy Manager UN Women National Committee in Canberra.
Adam Pain Adam Pain is a Professor in the Department of Urban and Rural Development, Swedish University of Agricultural Sciences, Uppsala, Sweden.