Book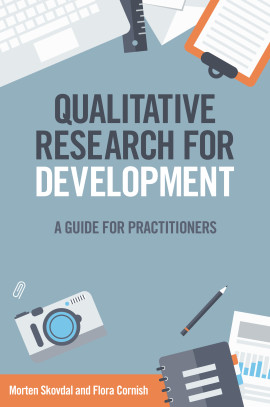 Qualitative Research for Development
A guide for practitioners
Published: 2015
Pages: 224

eBook: 9781780448534
Paperback: 9781853398544
Hardback: 9781853398537
How do we know whether our development programmes are reducing poverty and empowering the most vulnerable people? What evidence do we have to support our theory of change? Qualitative research for development aims to build the research capacity of development practitioners so that their work benefits from the significant contributions offered by solid qualitative research. The book guides development practitioners through the process of planning, conducting and reporting on a qualitative study, whilst simultaneously highlighting the role of qualitative research in improving the impact, quality and accountability of development programmes. It covers in detail data collection methods such as Participatory Learning and Action, Photovoice, Individual Interviews, Focus Group Discussions and Observations. It demystifies qualitative research and builds the skills and confidence of development practitioners to use qualitative methods authoritatively, and to communicate findings to different audiences.
The book draws on considerable hands-on experience and incorporates case studies from Save the Children and other international organizations to illustrate 'good practice'. To facilitate learning, all the chapters include a series of practical activities that can help the reader to engage actively with the material.
This book is an indispensable learning tool for all development practitioners within NGOs and government departments, as well as researchers and students engaged with applied qualitative research in the context of development.

Prelims [List of figures, tables, boxes, and activities | About the authors | Preface | Acknowledgements]

1 Improving programme impact and accountability through qualitative research

2 Designing and planning a qualitative study

3 Interviews and focus group discussions

4 Participant observation

5 Participatory data collection methods

6 Photovoice: methodology and use

7 Analysing qualitative data

8 Writing a research report
'This book is a practical and informative addition to the existing text books on qualitative methods. The authors show the scope of qualitative research and the value of the approach to international development. Having a foot in both academia and development has enabled them to produce a valuable guide which addresses many of the questions raised by development organizations about how you do qualitative research, analyse and write up. I am delighted to see this valuable book!'
Janet Seeley, Professor of Anthropology and Health, London School of Hygiene & Tropical Medicine

'Is there a need for yet another textbook on qualitative methods? At first sight, perhaps not, but after having read this volume there are good reasons to rethink that "gut response". The debate between qualitative and quantitative methods is old and might be coming to an end. The understanding -- and lack of understanding -- of qualitative methods varies over time, and hence each period of time needs its own explanation of qualitative methods. The current volume sets the discussion squarely in current discussions around evidence, learning, rigour and performance management. While it is mainly directed at practitioners of qualitative research, I hope many others study its contents: project and programme managers, those who take decisions on the design and funding of research and evaluation, and in particular all who use research findings and who have opinions on whether a particular research process can be considered as "rigorous evidence".'
Kim Forss, Expert Group for Aid Studies, Sweden

Morten Skovdal
Morten Skovdal is Associate Professor in the Department of Public Health at the University of Copenhagen.
Flora Cornish
Flora Cornish is Associate Professor in the Department of Methodology at the London School of Economics & Political Science.