Book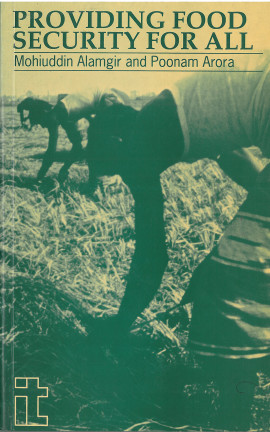 Providing Food Security For All
Mohiuddin Alamgir, Poonam Arora
Published: 1991
Pages: 288

eBook: 9781780443034
Hardback: 9781853391156
Paperback: 9781853391170
This book is by Mohiuddin Alamgir and Poonam Arora with an introduction by Idriss Jazairy. This book from IFAD is an in-depth user-friendly study of global food security, focused at the household level, which includes dozens of revealing figures, charts and tables. This introduction to global food security issues provides an analysis of production and supply systems, factors contributing to domestic production growth and variability, the relationship between the macro-economic environment and food security, and options for the future. The authors illustrate how a micro-economic grassroots approach, rooted in the self-help capabilities of the poor, is not only feasible, but is in fact a productive means of enhancing food security. The text contains charts and tables and a food security index that ranks developing countries in terms of their vulnerability to hunger.
Acknowledgements vii

This book: its purpose and use

Enterprising women 1

Should women be trained

separately from men? 4

Who should be trained and how

should they be chosen? 8

How to use this manual 12

Timetable suggestions 16

Evaluation 20

You and your business

Course introduction 22

The Enterprise Experience I:

Generating the business idea

and identifying the people to

do it 25

Enterprising women 30

Successful businesswomen 33

Meeting a successful

businesswoman 37

Business ideas 39

The Enterprise Experience II:

Report back 42

The Enterprise Experience HI:

Business plan preparation 44

What do you and your customers

need

Resources 52

Finding out about the market 56

The Enterprise Experience IV:

page

Business plan presentation

The envelope game

Costing and pricing

The marketing mix

Personal selling

Financial management

Basic business records

Cash flow

Profit and loss account

Balance sheet

Break even point

Sources and uses of money

The Enterprise Experience V:

Presentation of final results

Planning your business

Introduction to the business plan

Planning workbook

Preparation for business

investigation

Report back

The impact of your business

Completing the planning

workbook

Practice business plan

presentation

Presentation to the banker's panel

Follow-up

Reading list
Poonam Arora
Poonam Arora is assistant professor at Manhattan College.
Role of Women in the Household Economy, Food Production and Food Security
Kotzé, Derica A.
Outlook on Agriculture, Vol. 32 (2003), Iss. 2 P.111
https://doi.org/10.5367/000000003101294352
[Citations: 16]
The Interaction of Non-agricultural Employment, Agricultural Development and Reduced Chronic Food Insecurity: Sub-Saharan Africa, 1970 to 1990
Rempel, Henry
African Development Review, Vol. 10 (1998), Iss. 2 P.1
https://doi.org/10.1111/j.1467-8268.1998.tb00108.x
[Citations: 1]
Confronting Dietary Energy Supply with Anthropometry in the Assessment of Undernutrition Prevalence at the Level of Countries
Nubé, M
World Development, Vol. 29 (2001), Iss. 7 P.1275
https://doi.org/10.1016/S0305-750X(01)00037-7
[Citations: 16]
The space of vulnerability: the causal structure of hunger and famine
Watts, Michael J.
Bohle, Hans G.
Progress in Human Geography, Vol. 17 (1993), Iss. 1 P.43
https://doi.org/10.1177/030913259301700103
[Citations: 514]
THE IMPACT OF T HE STATE ON CREATING CONDITIONS TO ENSURE FOOD SECURIT Y IN THE NATIONAL AND REGIONAL DIMENSION
Żmija, Dariusz
Żmija, Katarzyna
Czekaj, Marta
Annals of the Polish Association of Agricultural and Agribusiness Economists, Vol. XX (2018), Iss. 5 P.242
https://doi.org/10.5604/01.3001.0012.6716
[Citations: 2]
Hunger, famine and the space of vulnerability
Watts, Michael J.
Bohle, Hans G.
GeoJournal, Vol. 30 (1993), Iss. 2 P.117
https://doi.org/10.1007/BF00808128
[Citations: 79]
Governability of Fisheries and Aquaculture
Food Security in the Context of Fisheries and Aquaculture – A Governability Challenge
Pullin, Roger S. V.
2013
https://doi.org/10.1007/978-94-007-6107-0_6
[Citations: 1]