Book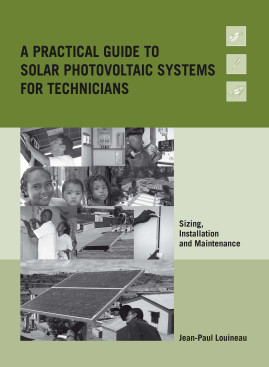 A Practical Guide to Solar Photovoltaic Systems for Technicians
Sizing, installation and maintenance
Published: 2008
Pages: 100

eBook: 9781780441535
Paperback: 9781853396595
An ideal addition to the toolkit of anyone involved in the installation of solar powered photovoltaic systems, this practical guide provides step-by-step explanations of the process by which technicians can estimate the requirements of PV systems and guides the reader through the set-up and running of such systems. Produced in a durable paperback edition and heavily illustrated with photos and charts, the guide is specifically designed for use in the field and has been extensively tested in training centres in Africa and other regions. A list of references to further reading resources is also provided.
Preface

1. Objective

2. Units of measure and basic formulae for electricity and energy 3. Introduction to small solar photovoltaic systems

4. The client: meeting his or her needs

5. Photovoltaic modules

6. Charge regulator

7. Batteries

8. Loads and inverters

9. Choice of cables and electrical protection equipment

10. Quality control and procurement advice

11. Installation of solar systems

12. Maintenance and servicing of small solar systems systems 13. Recurrent recurrent problems and solutions

14. List of necessary tools

15. For further information

16. Glossary

17. Annexes
'Being in the rural areas in Mali, Morocco, Burkina Faso, Senegal, I visited many solar technicians in rural areas, they all had the French version of the Practical Guide and were using it daily.' 'Several technical schools in West Africa use this practical guide during their electricity lessons and practical classes for teaching their students installation, maintenance and servicing of solar systems.' 'One of our partners in development, URDT in Uganda, uses the practical guide in training community based technicians. Their female solar trainer is very enthusiastic about the Practical Guide.'
Willeke Parmentier, ETC Energy/Technical Training Programme
Jean-Paul Louineau
Jean-Paul Louineau is an experienced solar energy consultant and author. He has conceived several hands-on photovoltaic technical and training tools and has conducted numerous training courses in Africa and France. He is the founder of the consultancy company Alliance Soleil, based in France.