Book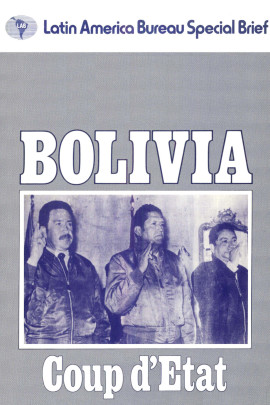 Bolivia: Coup d'Etat
Published: 1980
Pages: 88

eBook: 9781909013537
Paperback: 9780906156117
On 17 July 1980 Bolivia suffered the most brutal and bloody military coup in its history. The leader of the coup, General Luis Garcia Meza, thus brought to an end Bolivia's faltering attempts to establish parliamentary democracy. The coup's purpose was not simply to prevent the inauguration of the newly elected civilian government. Its broader aim was to do away with all opposition, from progressive clergy to trade union, peasant and left-wing organizations and to establish a right-wing military regime in the style of the dictatorships in neighbouring Argentina and Chile.

Bolivia: Coup d'Etat traces Bolivia's history from the 1952 Revolution to the July 1980 coup and its aftermath. It analyzes the country's political forces and socio-economic structures and chronicles the Bolivian miners' traditional struggle against the armed forces. It also describes the violations of basic human and democratic rights and examines the nature and origins of the present regime.
Prelims - Bolivia: Coup d'Etat (Title Page, Copyright Information, Contents, Map)

1. Bolivia: Coup d'Etat
The State, Industrial Relations and the Labour Movement in Latin America
Bolivia
Roddick, Jacqueline
van Niekerk, Nico
1989
https://doi.org/10.1007/978-1-349-05905-8_5
[Citations: 1]
Academic Entrepreneurs, Public Policy, and the Growth of Latin American Studies in Britain during the Cold War
Miller, Rory M.
Latin American Perspectives, Vol. 45 (2018), Iss. 4 P.46
https://doi.org/10.1177/0094582X18775461
[Citations: 2]