Book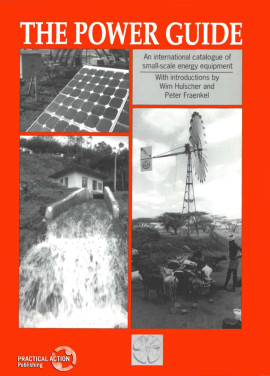 Power Guide
An international catalogue of small-scale energy equipment
Published: 1994
Pages: 296

eBook: 9781780445656
Paperback: 9781853391927
The catalogue builds on both the earlier edition of The Power Guide and The Equipment Directory produced for training courses by the Technology and Development Group of the University of Twente in the Netherlands. The data has been comprehensively revised and updated on the basis of research carried out by members of the Technology and Development Group, Densi Tech BV of the Netherlands, and Intermediate Technology in the UK. The Power Guide will facilitate decision making by providing guidelines most appropriate renewable energy source as well as providing information on hundreds of products from almost 500 manufacturers and suppliers in over 40 countries throughout the world, covering the following areas:
• solar photovoltaic equipment
• wind pumps and wind generators
• micro-hydro equipment, hydraulic ram pumps and water current turbines
• biomass pre-treatment. combustion and steam systems, and gasifiers.
The information is divided into chapters by energy source, each with an introduction containing guidelines for equipment selection and the possibilities and constraints of using that source. This is followed by manufacturers" data with key information about the equipment. Guidelines are also included for the selection of internal combustion engines, and solar-thermal, biogas and ethanol equipment. This is essential reading for all those who are interested in renewable energies or responsible for selecting energy equipment throughout the world.
FOREWORD ix

by Jan Pronk, Minister for Development Co-operation, The Netherlands

HOW TO USE THIS BOOK x

SI UNITS AND CONVERSION FACTORS xi

Introduction to small-scale energy technologies 1

by Peter Fraenkel

Socio-economic considerations 11

by Wim Hulscher

1 Solar power

Introduction by Anthony Derrick, Roy Barlow and Modibo Dicko 23

Photovoltaic equipment 40

2 Wind power

Introduction by Frank Goezinne, Dick Veldkamp,

Alvaro Pinilla and Robert W. Todd 73

Wind pumps 86

Wind generators 102

3 Water power

Introduction by Andy Brown and Bikash Pandey 123

Water turbines 137

Hydraulic ram pumps 172

4 Biomass energy technologies

Introduction by Joy Clancy, Hajo Brandt and P.D. Grower 175

Pre-treatment equipment 204

Briquetting equipment 207

Gasifiers 235

Combustion equipment 213

Steam turbines 219

5 Internal combustion engines

by Joy Clancy and Kamal Siddiqui 239

SUPPLIERS INDEX 246

INDEX 275
Peter Fraenkel
Peter Fraenkel is a mechanical engineer with long experience of renewable energy systems and the author of many books and articles on wind, hydro, and tidal energy. He is a leading authority on water pumping technologies for developing country applications and was a founder and Director of I.T. Power from 1981 to 2000.
Wim Hulscher
In 1998, Wim Hulscheris Chief Technical Advisor at FAO Regional Wood Energy Development Programme (RWEDP), Bangkok, Thailand.
Performance of small-scale photovoltaic systems and their potential for rural electrification in Ethiopia
Stutenbäumer, Ulrich
Negash, Tesfaye
Abdi, Amensisa
Renewable Energy, Vol. 18 (1999), Iss. 1 P.35
https://doi.org/10.1016/S0960-1481(98)00784-8
[Citations: 12]