Book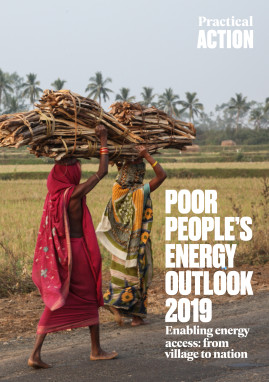 PPEO 2019 is the culmination of five years' research, exploring what it takes to realise the kinds of energy services that enable people living in energy poverty to thrive. The report compiles and updates key messages and recommendations on energy access planning (PPEO 2016), financing (PPEO 2017) and delivering at scale, while also leaving no one behind (PPEO 2018). It draws on primary research from community consultations in Bangladesh, Kenya and Togo, as well as analysis of energy access programmes across Latin America, South Asia and sub-Saharan Africa; considering how to ramp up energy access from small-scale interventions to national and global levels, to ensure that the transformational power of energy is universally enjoyed.

This is because, with just a decade to go until the deadline for the 2030 Global Goals, universal energy access remains elusive. Scaling-up access will require a huge increase and re-balance of investment, innovative business models, changes in policy frameworks and institutional capacity, increased awareness, and improved technical solutions. PPEO 2019 explores progress achieved across these elements to date and considers what remains to be done, to ensure that we truly leave no one behind in our pursuit of SDG7.

1. Introduction

A framework for action in a changing world

Our inclusive approach

Methodologies for a bottom-up perspective

2. The road to 2030

Energy access: overall trends

Clean cooking

Electricity access

Achieving universal access by 2030: what needs to change

3. Clean cookstoves and fuels

Bottom-up planning for clean cooking solutions

Financing the transition to improved cooking solutions

Delivering clean cooking solutions at scale and inclusively

Recommendations

4. Electrification

Bottom-up planning for electrification: meeting broad energy service needs

Financing the stretch to electricity access for all

Delivering electricity access at scale and inclusively

Recommendations

5.People-focused delivery

Reaching the unserved billions

Unlocking the necessary funding

Planning and policy that meets people's needs

Reaching the 'last mile' through better planning, finance, and delivery

6. Conclusions and recommendations

Notes

References
Practical Action
Practical Action is an innovative international development organisation putting ingenious ideas to work so people in poverty can change their world.