Book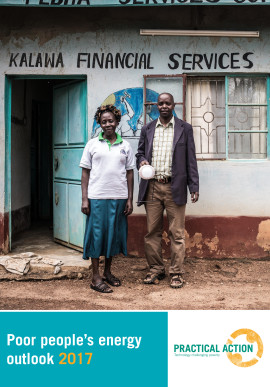 Energy access sits at the heart of sustainable development, enabling progress in health, education and women's empowerment, among other things. Recognizing this, the global community committed to a dedicated energy access goal in the Sustainable Development Goals for 2030. To achieve this, investments in national energy systems have increased. Yet, while it is recognized that the majority of these investments should be directed towards decentralized energy systems to have the fastest, most economical result, energy access finance has not shifted or grown accordingly.

Poor people's energy outlook 2017 uses national energy planning as an entry point to reframe energy finance discussions. Having developed bottom-up integrated national energy access plans in Togo, Kenya, and Bangladesh in PPEO 2016, PPEO 2017 models the least-cost national technology mix, and financing required, to achieve Total Energy Access in these countries and globally.

Achieving SDG7 will require us to challenge 'business as usual' models that have left over 1 billion people lacking electricity and 3 billion cooking on inadequate stoves. This means building capacity and cross-sectoral partnerships, and focusing on alternative technologies and financing mechanisms to facilitate new ways of working. Key to this will be development finance institutions, donors, philanthropists, impact investors, and other concessional financiers who can help facilitate systemic change using targeted subsidies, concessional loans, and other tools to reach those at the bottom of the pyramid.

The PPEO 2017 is the second in a suite of three PPEOs which takes the Total Energy Access framework developed in previous editions and illustrates how to operationalize it in terms of planning (PPEO 2016), financing (this edition), and delivering at scale (PPEO 2018).
Executive summary

1. Introduction

2. The inadequacies of energy access finance

3. A bottom-up approach to estimating national technology mix and financing requirements

4. Togo

5. Kenya

6. Bangladesh

7. National implications of community-driven planning

8. A how-to guide for quickly and sustainably scaling energy finance and delivery

9. Conclusions and recommendations
Designing Sustainable Energy for All
Sustainable Product-Service System Applied to Distributed Renewable Energies
Vezzoli, Carlo
Ceschin, Fabrizio
Osanjo, Lilac
M'Rithaa, Mugendi K.
Moalosi, Richie
Nakazibwe, Venny
Diehl, Jan Carel
2018
https://doi.org/10.1007/978-3-319-70223-0_4
[Citations: 2]
Energy poverty alleviation in Southeast Asian countries: policy implications for improving access to electricity
Shyu, Chian-Woei
Journal of Asian Public Policy, Vol. 15 (2022), Iss. 1 P.97
https://doi.org/10.1080/17516234.2020.1770426
[Citations: 3]
Affordable and Clean Energy
Centralized Versus Decentralized Electrification Pathways
Tarekegne, Bethel
2021
https://doi.org/10.1007/978-3-319-95864-4_115
[Citations: 0]
Engendering the Energy Transition
Energy Transition and Gender in the Informal Street Food Sector in Africa
Diouf, Maïmouna
Mohlakoana, Nthabiseng
Sarr, Secou
Seydi, Bacary
2020
https://doi.org/10.1007/978-3-030-43513-4_2
[Citations: 0]
Let capabilities ring: Operationalizing energy justice in Guinea
Jodoin, Laurent
Energy Research & Social Science, Vol. 72 (2021), Iss. P.101894
https://doi.org/10.1016/j.erss.2020.101894
[Citations: 4]
Affordable and Clean Energy
Centralized Versus Decentralized Electrification Pathways
Tarekegne, Bethel
2020
https://doi.org/10.1007/978-3-319-71057-0_115-1
[Citations: 0]
A critical review of modern approaches for multidimensional energy poverty measurement
Pelz, Setu
Pachauri, Shonali
Groh, Sebastian
WIREs Energy and Environment, Vol. 7 (2018), Iss. 6
https://doi.org/10.1002/wene.304
[Citations: 27]
Energy and Environmental Security in Developing Countries
The Politics of Electricity Access and Environmental Security in Mozambique
Cotton, Matthew
Kirshner, Joshua
Salite, Daniela
2021
https://doi.org/10.1007/978-3-030-63654-8_11
[Citations: 0]