Book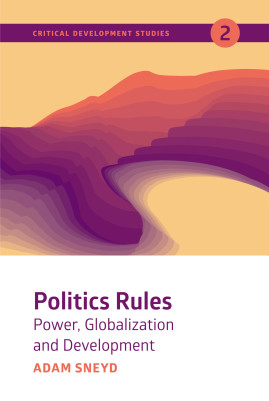 Politics Rules
Power, Globalization and Development
Series: Critical Development Studies
Published: 2019
Pages: 142

eBook: 9781788530743
Paperback: 9781788530729
Hardback: 9781788530712
Whether we like it or not, we are subject to politics wherever we go and in whatever we are doing. Development is always and everywhere political, and frequently occurs with the interests of the powerful at the forefront. Can we hope to better understand the politics that shapes and controls our lives and dominates the lives of others around the globe?

In this concise volume, Adam Sneyd argues that it is imperative to recognize the importance of the sub-field of development politics. He demonstrates how the difficult skill of careful political analysis can shed new light on some of today's most intractable development challenges. Sneyd shows how conflicts over ideas can entrench underdevelopment, and he conveys why we need better analyses of development politics to fight the status quo and expedite inclusive change.

Adam Sneyd is an associate professor with the Department of Political Science, University of Guelph.
Introduction: What Is Politics? What Is Development?

1 Politics Rules

2 Imposing Order

3 Controlling Commerce

4 Humanizing Development

5 Hungering for the Global Goals

Conclusion: Developing a Political Analysis of Underdevelopment
'Just as [E.F.] Schumacher helped to break new ground in the understanding of development in the 1970s and challenged standard economic approaches to development, so too does Sneyd with his emphasis on the need today for a new critical direction in development studies given the relative neglect of politics in mainstream development thinking and practice.'
Progress in Development Studies journal