Book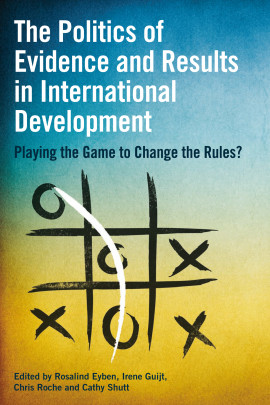 The Politics of Evidence and Results in International Development
Playing the game to change the rules?
Rosalind Eyben, Irene Guijt, Chris Roche, Cathy Shutt
Published: 2015
Pages: 234

eBook: 9781780448855
Paperback: 9781853398865
Hardback: 9781853398858
Understanding and demonstrating the effectiveness of efforts to improve the lives of those living in poverty is an essential part of international development practice. But who decides what counts as good or credible evidence? Can the drive to measure results do justice to and promote transformational change – change that challenges the power relations that produce and reproduce inequality, injustice and the non-fulfilment of human rights?
The Politics of Evidence and Results in International Development critically examines the context and history of the current demands for results-oriented measurement and for evidence of value for money. The book looks at how organizations and individuals embrace, resist, adapt or comply with these demands. Practitioner case studies illuminate different sets of relationships in the aid chain, examining the impact of the demands for results and evidence on the pursuit of rights-based approaches and enquiring into whether the growing emphasis on upward accountability is trumping mutual learning. The book's challenging conclusion identifies power-aware strategies for development practitioners, enabling them to generate and use results and evidence for transformational ends.
This book will inspire development professionals and organizations to cultivate their political skills. It will encourage them to play the results and evidence game to support their own, not someone else's agendas.

'This report from the aid trenches is a brilliant exploration of how power and politics can distort or even wreck a potentially sound idea (measuring impact), and provides valuable advice on how to turn the results agenda into a positive force.'
Duncan Green, Senior Strategic Adviser, Oxfam GB

'While few would question the value of evidence-informed policy, not enough questions have been asked about the politics of evidence itself. This radical and thought-provoking book challenges the reader to consider how the evidence and results agenda in international development has the potential to dilute efforts to pursue transformational change in favour of incremental, more easily measured but less impactful improvements. Importantly, the authors remind us that the production of evidence isn't a technical process but a deeply political one, where some voices, some ways of counting, are valued more than others.'
Heather Marquette, Director of the Developmental Leadership Program (DLP) and the Governance and Social Development Resource Centre (GSDRC), University of Birmingham

'Approaches to development, and methods to evaluate development results, run the gamut from simple to complex. Across this spectrum of diverse development initiatives and accompanying calls for rigorous evidence of results, there is one constant: politics. Thus has it always been and thus will it inevitably be. The danger is that acknowledging the intrinsically political nature of development evaluation leads to cynicism. This book not only avoids that danger, it offers concrete strategies for generating and using results and evidence that support transformational development. Such development seeks to change power dynamics that sustain inequality, foment injustice, and undermine human rights. Far from avoiding or lamenting politics, this book shows that being sophisticated about political games and playing those games astutely can enhance transformation while meeting accountability demands and learning what works for whom in what ways under what conditions. Political sophistication becomes an asset that makes dealing with power effectively an opportunity not a quagmire. But you have to know how to play the game. This is the instruction manual.'
Michael Quinn Patton, author of Utilization-Focused Evaluation
'The Politics of Results and Evidence in International Development shows that designing development projects that are easily measurable, rather than development projects that address underlying causes, can be counter-productive. Even so, it states that transformational development and the results agenda can be mutually supportive, if you know what and how to do it. This book provides some pointers.'
Marco Segone, Director, Independent Evaluation Office, UNWomen, and Chair, United Nations Evaluation Group

'Despite the common sense appeal of the push for improved accountability and focus on results, it is clear that these can and often do lead to reduced transparency and performance. This timely book not only documents how this occurs, in specific and diverse examples, it explains what can and should be done differently.'
Patricia J. Rogers, Professor of Public Sector Evaluation and Director, BetterEvaluation, RMIT University, Melbourne, Australia

Rosalind Eyben Rosalind Eyben is a Emeritus Fellow at the Institute of Development Studies, Sussex, studying power and relations in international aid.
Irene Guijt Irene Guijt is an independent consultant, Visiting Fellow at the Department of Forestry at ANU, Research Associate for the International Institute for Environment and Development in London and Research Associate for Overseas Development Institute.
Chris Roche Chris Roche is Director of the Institute for Human Security and Social Change, La Trobe University, Melbourne, Australia
Cathy Shutt Catherine Shutt is an independent consultant and tutor with the Institute of Development Studies and University of Sussex.