Book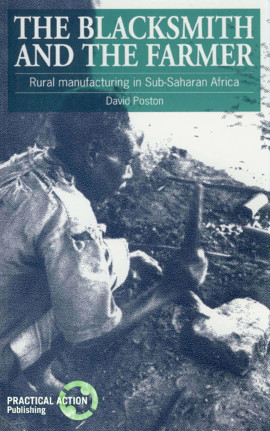 The Blacksmith and the Farmer
Rural manufacturing in sub-Saharan Africa
Published: 1994
Pages: 152

eBook: 9781780446134
Paperback: 9781853391279
This book examines the contribution of rural manufacturing in central African economies, particularly as a service to the agricultural base. The author argues that self-sustaining small-scale rural workshops are vital to rural development.
PREFACE Vll

ACKNOWLEDGEMENTS ix

INTRODUCTION xi

One: Rural industrialization

Identifying a strategy for small-scale rural

industrialization 1

The blacksmiths of Manie, Zaire 3

In-house shortcomings restraining informal

industrialization 12

Resource deficiencies which restrain informal

industrialization 15

Rural industrial viability 19

Industrial origins: traditional or implanted? 21

Two: Rural workshops

The comparative viability of urban and rural informal

manufacturing 25

The significance of innovation 31

Sustainability and growth 35

Form of design input required by primary and

secondary workshops 39

The comparative viability of primary and secondary

workshops 46

Categorization of small workshop production in

developing countries 47

Three: Relevance and ignorance

The contribution of the small workshop 52

The relevance of the small workshop within

African development 55

The failure of interventions 60

Perception of success 67

Four: Artisan-orientated intervention

The recognition of indigenous technical'knowledge 77

The control of interventions 81

Respectful collaboration 85

External agents 99

Clients and targets 102

Success indicators 104

Five: The way forward

The manner of interventions 108

Approach to training 114

Implications for intervention agents 120

BIBLIOGRAPHY 127
David Poston
Dr David Poston has worked in Africa for many years, teaching blacksmithing techniques to rural communities under the auspices of the United Nations. He also worked as an artist-jeweller and has worked to assist in the development of sustainable livelihoods in fourteen different African countries.
Encyclopedia of African Religions and Philosophy
Blacksmith
McNaughton, Patrick R.
2021
https://doi.org/10.1007/978-94-024-2068-5_61
[Citations: 0]
NGOs, Social Capital and Community Empowerment in Bangladesh
NGOs' Capacity for Social Capital in Bangladesh
Islam, M. Rezaul
2016
https://doi.org/10.1007/978-981-10-1747-6_6
[Citations: 0]
Information flows and adaptation in Tanzanian cottage industries
Kristiansen, Stein
Kimeme, Joseph
Mbwambo, Andrew
Wahid, Fathul
Entrepreneurship & Regional Development, Vol. 17 (2005), Iss. 5 P.365
https://doi.org/10.1080/08985620500275547
[Citations: 17]
Cottage Industries in Tanzania
Kristiansen, Stein
Kimeme, Joseph
Mbwambo, Andrew
The International Journal of Entrepreneurship and Innovation, Vol. 6 (2005), Iss. 2 P.97
https://doi.org/10.5367/0000000053966849
[Citations: 0]