Book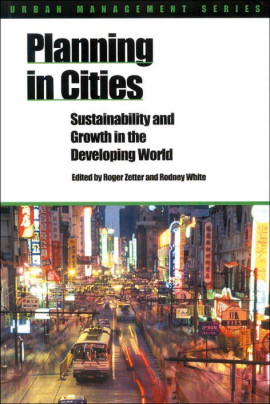 Planning in Cities
Sustainability and growth in the developing world
Series: Urban Management Series
Published: 2002
Pages: 264

eBook: 9781780441283
Paperback: 9781853395437
Planning in Cities is an innovative collection which bridges theory and practice to explore the conflicting challenges of the increasingly rapid scale and speed of city growth with providing effective urban planning policies and management strategies. Part One explores the changing paradigms of development and environmentalism and how these have impacted on the process of urbanization and the emerging debates on the sustainability of cities. These chapters review and elaborate the discourse on sustainability, setting it firmly within the context of urbanization and development. The increasing disjuncture between these concepts and the challenge this presents to the planning of cities in the developing world is highlighted. Part Two shifts from discourse to practice. Case studies drawn from different countries and different urban policy sectors investigate the design and implementation of planning policies and ways of improving urban governance to support sustainable urban growth. They assess the challenges and limitations to capacity-building in the urban sector. Lessons learned from different practical approaches are demonstrated and critiqued. Published in the Urban Management Series.
Prelims (Contents, Foreword, The Urban Management Series, Acknowledgements, List of Figures, List of Tables, List of Boxes, List of Acronyms and abbreviations)

1. Introduction

Roger Zetter, Rodney White

Part I - ISSUES AND DISCOURSES: DEVELOPMENT, URBANIZATION AND SUSTAINABILITY

2. Sustainable development: between environment and development agendas

Al-Moataz Hassan, Roger Zetter

3. Market enablement or sustainable development? The conflicting paradigms of urbanization

Roger Zetter

4. Environmental health or ecological sustainability? Reconciling the brown and green agendas in urban development

Gordon McGranahan, David Satterthwaite

5. African cities and climate change: the global context for sustainable development

Rodney White

Part II - PLANNING FOR SUSTAINABILITY GROWTH

6. Urban planning and the rationale of the market: the elimination of the intermediate urban level in Bogotá

Andres Ortiz-Gomez

7. Public sector capacity-building and urban policy changes in the Kingdom of Lesotho: implications for international development assistance

Cormac Davey

8. Property taxation, public finance and sustainable development: the case of Belém, Brazil

José Júlio Lima

9. Urban livelihoods, shocks and stresses

David Sanderson

10. International agency shelter policy of the 1990s: experiences from Mozambique and Costa Rica

Harry Smith, Paul Jenkins

11. Authoritarianism and sustainability in Cairo: what failed urban development projects tell us about Egyptian politics

Bill Dorman

12. The sustainability of community development in El Mezquital, Guatemala City

Emma Grant

13. From apartheid city to sustainable city: the compact city approach as a regulative ideal

Koyi Mchunu

14. Structural adjustment and water supply in Bolivia: managing diversity, reproducing inequality

Carlos Crespo-Flores

15. Linking theory and practice in development processes – the case of urban sanitation

Kevin Tayler

Back Matter (List of contributors, Notes, References, Index)
Roger Zetter Roger Zetter is Professor and Deputy Head of the School of Planning at Oxford Brookes University in the UK.|Rodney White is Professor of Geography and Director of the Institute for Environmental Studies, University of Toronto, Canada.