Book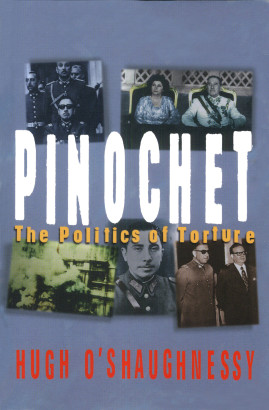 Pinochet
The Politics of Torture
Published: 1999
Pages: 190

eBook: 9781909013384
Paperback: 9781899365418
Using interviews, eye-witness accounts and quotes from sources on Pinochet, this volume tracks the General's journey from his rise to power in 1973 to his unprecedented arrest and internment in Britain in October 1998. It contains revelations about the financial dealings of the Pinochet regime, and presents evidence of arms and drug-running. It details the assassination operations carried out by Chile's state security apparatus, the DINA, against three Chileans abroad which resulted in the murder of four individuals. The book highlights the consequences of his arrest in terms of international law, and tells the story of legal intrigue behind the search for justice. Moreover, it provides an analysis of Pinochet's role in building modern Chile and in the politics of torture.
Prelims - Pinochet (Title Page, Copyright Information, Dedication Page, Permissions, Acknowledgements, Contents)

1. The Arrest

2. The Making of a General

3. Treason and Terror

4. Guns and Drugs

5. Nemesis

Back Matter - Pinochet (Bibliography, Index)
Hugh O'Shaughnessy
Hugh O'Shaughnessy is a veteran journalist who has reported from Latin America for over 40 years.
Between Pinochet and Kropotkin: state terror, human rights and the geographers.
HEWITT, KENNETH
The Canadian Geographer/Le Géographe canadien, Vol. 45 (2001), Iss. 3 P.338
https://doi.org/10.1111/j.1541-0064.2001.tb01186.x
[Citations: 22]
Torture, Silence and Recognition
Stanley, Elizabeth
Current Issues in Criminal Justice, Vol. 16 (2004), Iss. 1 P.5
https://doi.org/10.1080/10345329.2004.12036302
[Citations: 8]
Anatomies of Revolution
Lawson, George
2019
https://doi.org/10.1017/9781108697385
[Citations: 38]
International Criminal Law and Philosophy
The Justification of Punishment in the International Context
Golash, Deirdre
2009
https://doi.org/10.1017/CBO9780511642265.011
[Citations: 0]
Global Banks and Latin American Dictators, 1974–1982
Altamura, Carlo Edoardo
Business History Review, Vol. 95 (2021), Iss. 2 P.301
https://doi.org/10.1017/S0007680519001260
[Citations: 2]
Hayek: A Collaborative Biography
'Consistent Doctrine,' 'The Morals of the Market,' and the 'Filthy Load of Pinks'
Leeson, Robert
2018
https://doi.org/10.1007/978-3-319-77428-2_5
[Citations: 0]
Hayek: A Collaborative Biography
Friedrich Hayek and His Visits to Chile: Some Austrian Misrepresentations
Filip, Birsen
2018
https://doi.org/10.1007/978-3-319-91358-2_11
[Citations: 1]
Human Rights and Transitional Justice in Chile
Chilean Recent History
Rojas, Hugo
Shaftoe, Miriam
2022
https://doi.org/10.1007/978-3-030-81182-2_2
[Citations: 0]
Explaining Costly International Institutions: Persuasion and Enforceable Human Rights Norms
Hawkins, Darren
International Studies Quarterly, Vol. 48 (2004), Iss. 4 P.779
https://doi.org/10.1111/j.0020-8833.2004.00325.x
[Citations: 48]
Votes, Drugs, and Violence
Trejo, Guillermo
Ley, Sandra
2020
https://doi.org/10.1017/9781108894807
[Citations: 25]
Hayek: A Collaborative Biography
Clerical Fascism: Chile and Austria
Leeson, Robert
2017
https://doi.org/10.1007/978-3-319-60708-5_9
[Citations: 0]
Anticipating Dissent: The Repression of Politicians in Pinochet's Chile
Esberg, Jane
The Journal of Politics, Vol. 83 (2021), Iss. 2 P.689
https://doi.org/10.1086/710086
[Citations: 6]