Book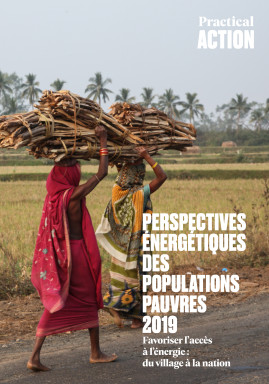 Perspectives énergétiques des populations pauvres 2019
Favoriser l'accès à l'énergie : du village à la nation
Series: Poor People's Energy Outlook
Published: 2020
Pages: 72

eBook: 9781780447841
Les PPEO 2019 sont l'aboutissement de cinq années de recherches pour explorer par quels moyens donner corps aux types de services énergétiques qui permettraient aux populations pauvres en énergie de prospérer. Le rapport synthétise et met à jour les messages et recommandations clés en matière de planification (PPEO 2016), de financement (PPEO 2017) et de fourniture de l'accès à l'énergie à grande échelle, tout en ne laissant personne de côté (PPEO 2018). Il s'appuie sur des recherches primaires issues de consultations avec des communautés du Bangladesh, du Kenya et du Togo et sur une analyse des programmes d'accès à l'énergie à travers l'Amérique latine, l'Asie du Sud et l'Afrique subsaharienne ; il examine comment déployer aux niveaux national et mondial l'accès à l'énergie obtenu par des interventions de petite envergure pour faire en sorte que tout le monde puisse profiter du pouvoir transformationnel de l'énergie.

En effet, alors qu'il reste tout juste dix ans avant la date butoir de 2030 fixée pour les objectifs de développement durable, l'accès universel à l'énergie demeure hors de portée. La mise à l'échelle de l'accès nécessitera une hausse massive et un rééquilibrage des investissements, des modèles économiques innovants, une évolution des cadres politiques et des capacités institutionnelles, une prise de conscience affûtée et de meilleures solutions techniques. Les PPEO 2019 explorent les progrès accomplis à ce jour avec chacun de ces éléments et considèrent ce qui reste à faire pour veiller à ne laisser vraiment personne de côté dans notre quête de l'ODD7.
« Une fois de plus, Practical Action n'a pas peur de s'attaquer de front à des problèmes vraiment injustes. »
Harriet Lamb, PDG, Ashden

« Réunissant les thématiques de la planification, du financement et de la fourniture de l'accès à l'énergie, cette édition des PPEO illustre parfaitement à quel point il est pertinent de voir les choses du point de vue des populations. »
Annemarije Kooijman, Coordonnatrice des programmes de recherches, ENERGIA

« Les PPEO sont une contribution très attendue à un débat désormais intense sur le thème de l'accès inclusif à l'énergie à grande échelle.»
Peter George, Directeur, Enterprise Development and Investment, Clean Cooking Alliance

« La série de rapports sur les Perspectives énergétiques des populations pauvres offre un point de vue unique et nécessaire
spécifiquement axé sur les besoins en énergie de ceux qui risquent d'être laissés pour compte dans la transition énergétique. »
Glenn Pearce-Oroz, Directeur des politiques et des programmes, Sustainable Energy for All
Practical Action
Practical Action is an innovative international development organisation putting ingenious ideas to work so people in poverty can change their world.