Book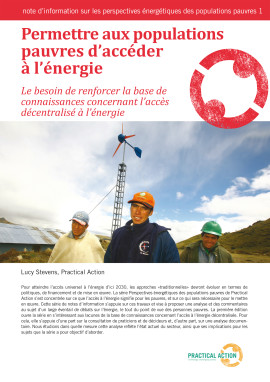 Pour atteindre l'accès universel à l'énergie d'ici 2030, les approches «traditionnelles» devront évoluer en termes de politiques, de financement et de mise en oeuvre. La série Perspectives énergétiques des populations pauvres de Practical Action s'est concentrée sur ce que l'accès à l'énergie signifie pour les pauvres, et sur ce qui sera nécessaire pour le mettre en oeuvre. Cette série de notes d'information s'appuie sur ces travaux et vise à proposer une analyse et des commentaires au sujet d'un large éventail de débats sur l'énergie, le tout du point de vue des personnes pauvres. La première édition ouvre la série en s'intéressant aux lacunes de la base de connaissances concernant l'accès à l'énergie décentralisée. Pour cela, elle s'appuie d'une part sur la consultation de praticiens et de décideurs et, d'autre part, sur une analyse documentaire. Nous étudions dans quelle mesure cette analyse reflète l'état actuel du secteur, ainsi que ses implications pour les sujets que la série a pour objectif d'aborder.
Synthèse

Pourquoi des connaissances sont-elles nécessaires?

Développer la base de connaissances du point de vue des populations pauvres

Manque de connaissances en termes d'accès à l'énergie

Conclusion et actions à mener

Notes

References
Lucy Stevens
Lucy Stevens is Senior Policy and Practice Adviser with Practical Action, UK. She leads the organisation's influencing and learning strategy on energy access.