Book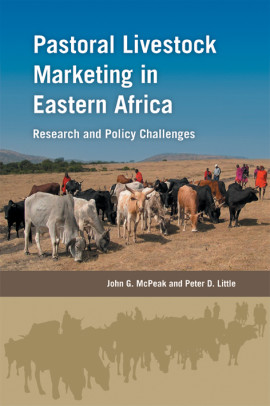 Pastoral Livestock Marketing in Eastern Africa
Research and Policy Challenges
Published: 2006
Pages: 288

eBook: 9781780440323
Paperback: 9781853396311
An in-depth, evidence-based investigation of livestock marketing in Eastern Africa which approaches the issues from a variety of disciplinary perspectives including anthropology, economics, geography, and rangeland ecology.

Editors John G. McPeak and Peter D. Little present current findings on how livestock markets in this area operate, describe policy options that help markets function more effectively, and identify topics meriting further research. The issues are examined at a variety of levels (household, market, national, and international), and many of the authors place emphasis on cross-border trade: an area not currently well understood but of substantial economic importance.

The book is written in a clear, straightforward style and, though the authors come from a variety of fields, jargon and discipline-specific terms are kept to a minimum.
Chapter 1: INTRODUCTION

Peter D. Little and John G. McPeak

Chapter 2: HOUSEHOLD-LEVEL LIVESTOCK MARKETING BEHAVIOR AMONG NORTHERN KENYAN

AND SOUTHERN ETHIOPIAN PASTORALISTS

Christopher B. Barrett, Marc F. Bellemare, and Sharon M. Osterloh

Chapter 3: LIVESTOCK MARKETING IN MARSABIT DISTRICT, KENYA, OVER THE PAST FIFTY YEARS

John G. McPeak

Chapter 4: DETERMINANTS OF MARKET PRICES OF LIVESTOCK: THE CASE OF CATTLE IN ALEMAYA, EASTERN ETHIOPIA

Teressa Adugna

Chapter 5: LIVESTOCK MARKET ORGANIZATION AND PRICE DISTRIBUTIONS IN NORTHERN KENYA

Alan M. Green, Christopher B. Barrett, Winnie K. Luseno, and John G. McPeak

Chapter 6: DETERMINANTS OF CATTLE PRICES IN SOUTHERN KENYA: IMPLICATIONS FOR BREED CONSERVATION AND PASTORAL MARKETING STRATEGIES

Maren Radeny, Patti Kristjanson, Eric Ruto, Jacob Wakhungu, and Riccardo Scarpa

Chapter 7: LINKING PASTORALISTS AND EXPORTERS IN A LIVESTOCK MARKETING CHAIN: RECENT EXPERIENCES FROM ETHIOPIA

Solomon Desta, Getachew Gebru, Seyoum Tezera, and D. Layne Coppock

Chapter 8: INNOVATIONS IN PASTORAL LIVESTOCK MARKETING: THE EMERGENCE AND THE ROLE OF 'SOMALI CATTLE TRADERS-CUM-RANCHERS' IN KENYA

Hussein A. Mahmoud

Chapter 9: THE GEOGRAPHY OF INTEGRATION: CROSS-BORDER LIVESTOCK TRADE IN EAST AFRICA

Fred Zaal, Morgan Ole Siloma, Rachel Andiema, Albino Kotomei

Chapter 10: WORKING ACROSS BORDERS: METHODOLOGICAL AND POLICY CHALLENGES OF CROSS-BORDER LIVESTOCK TRADE IN THE HORN OF AFRICA

Peter D. Little

Chapter 11: A REVIEW OF POLICIES AND THEIR IMPACT ON LIVESTOCK TRADE IN ETHIOPIA DURING THREE REGIMES (1965-2005)

Yacob Aklilu

Chapter 12: LIVESTOCK MARKET INFORMATION SYSTEMS FOR EAST AFRICA: THE CASE OF LINKS/GL-CRSP

Jerry Stuth, Abdi Jama, Robert Kaitho, Jimmy Wu, Abdirahman Ali, Gatarwa Kariuki, Margaret Kingamkono

Chapter 13: PASTORALIST COPING STRATEGIES AND EMERGENCY LIVESTOCK MARKET INTERVENTION John Morton

Chapter 14: POLICY IMPLICATIONS AND FUTURE RESEARCH DIRECTIONS

John G. McPeak, Peter D. Little, and Montague W. Demment
John McPeak Since 2002 John McPeak has been an assistant professor in the Department of Public Administration at Syracuse University in Syracuse, NY, USA. He was a researcher for the Pastoral Risk Management project of the Global Livestock Collaborative Research Support Program in Kenya.
Peter Little Peter Little is a professor and chair of the department of Anthropology at the University of Kentucky in Lexington, KY, USA. His research over the past 23 years falls into agrarian (pastoral) production systems, marketing, and social organization in East Africa; environmental degradation and political ecology; and the social effects on rural communities of economic restructuring, globalization, and development.
Turning the tide: Enabling sustainable development for Africa's mobile pastoralists
Davies, Jonathan
Natural Resources Forum, Vol. 32 (2008), Iss. 3 P.175
https://doi.org/10.1111/j.1477-8947.2008.00190.x
[Citations: 14]
Responding to Food Insecurity: Employing the Market Information and Food Insecurity Response Analysis Framework in Rural Northern Kenya
Mude, Andrew
Ouma, Robert
Lentz, Erin
Journal of Development Studies, Vol. 48 (2012), Iss. 12 P.1731
https://doi.org/10.1080/00220388.2012.685719
[Citations: 3]
DEALING WITH CLIMATE-RELATED RISKS: SOME PIONEERING IDEAS FOR ENHANCED PASTORAL RISK MANAGEMENT IN AFRICA
OUMA, ROBERT
MUDE, ANDREW
VAN DE STEEG, JEANNETTE
Experimental Agriculture, Vol. 47 (2011), Iss. 2 P.375
https://doi.org/10.1017/S0014479710000888
[Citations: 21]
Is Poverty Driving Borana Herders in Southern Ethiopia to Crop Cultivation?
Tache, Boku
Oba, Gufu
Human Ecology, Vol. 38 (2010), Iss. 5 P.639
https://doi.org/10.1007/s10745-010-9349-8
[Citations: 36]
Nomad-State Relationships in International Relations
Frontier Energetics: The Value of Pastoralist Border Crossings in Eastern Africa
Galaty, John
2020
https://doi.org/10.1007/978-3-030-28053-6_6
[Citations: 0]
Re-spacing African drylands: territorialization, sedentarization and indigenous commodification in the Ethiopian pastoral frontier
Korf, Benedikt
Hagmann, Tobias
Emmenegger, Rony
The Journal of Peasant Studies, Vol. 42 (2015), Iss. 5 P.881
https://doi.org/10.1080/03066150.2015.1006628
[Citations: 52]
The overlooked role of market knowledge in the market integration of Ethiopian pastoralists
Teklehaimanot, Mebrahtu Leake
Paul, T. M. Ingenbleek
Hans, C. M. van Trijp
African Journal of Business Management, Vol. 13 (2019), Iss. 16 P.529
https://doi.org/10.5897/AJBM2019.8750
[Citations: 0]
Too Many People and Too Few Livestock in West Africa? An Evaluation of Sandford's Thesis
Moritz, Mark
Kyle, Britney R.
Nolan, Kevin C.
Patrick, Steve
Shaffer, Marnie F.
Thampy, Gayatri
The Journal of Development Studies, Vol. 45 (2009), Iss. 7 P.1113
https://doi.org/10.1080/00220380902811058
[Citations: 19]
Assessing Institutional Development for Livestock Market Participation of Traditional Cattle Keepers in Uganda, Tanzania and Kenya
Verbeke, Wim
D'Haese, Marijke
Kyeyamwa, Herbert
Opuda-Asibo, John
Van Huylenbroeck, Guido
Outlook on Agriculture, Vol. 38 (2009), Iss. 3 P.275
https://doi.org/10.5367/000000009789396775
[Citations: 2]
Pastoralism, sustainability, and marketing. A review
Tessema, Workneh Kassa
Ingenbleek, Paul T. M.
van Trijp, Hans C. M.
Agronomy for Sustainable Development, Vol. 34 (2014), Iss. 1 P.75
https://doi.org/10.1007/s13593-013-0167-4
[Citations: 21]
Staying Maasai?
Staying Maasai? Pastoral Livelihoods, Diversification and the Role of Wildlife in Development
Homewood, Katherine
Trench, Pippa Chenevix
Kristjanson, Patti
2009
https://doi.org/10.1007/978-0-387-87492-0_10
[Citations: 3]
Pastoral intensification in West Africa: implications for sustainability
MORITZ, MARK
Journal of the Royal Anthropological Institute, Vol. 18 (2012), Iss. 2 P.418
https://doi.org/10.1111/j.1467-9655.2012.01750.x
[Citations: 18]
Staying Maasai?
Changing Land Use, Livelihoods and Wildlife Conservation in Maasailand
Homewood, Katherine
Kristjanson, Patti
Trench, Pippa Chenevix
2009
https://doi.org/10.1007/978-0-387-87492-0_1
[Citations: 5]