Book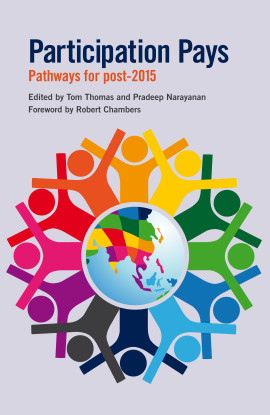 Participation Pays
Pathways for post 2015
Published: 2015
Pages: 188

eBook: 9781780448695
Paperback: 9781853398704
Hardback: 9781853398698
The processes of international development often mean that beneficiaries have pre-designed programmes imposed upon them. Even the most well-intentioned development projects are often constrained by funding requirements from fulfilling their vision of social justice, with the result that poor, marginalized communities feel even more disempowered and excluded by programmes over which they have no control. Participation Pays attempts to show how beneficiaries of aid can challenge and overcome conventional power arrangements set up by donors and development agencies. It does so through a focus on community knowledge and self-generated data, control of which enables greater ownership and direction of development processes. These projects involved members of marginalized and resource-poor communities including landless people, female sex workers, tribal people, and people affected by a natural disaster. Eight thematic case studies are featured, seven from India and one from the Maldives. Participation Pays argues for the need, in any vibrant democracy, for multiple ways of making development more accountable to excluded communities. In doing so, the book invites an understanding of marginalized people not simply as beneficiaries of technical solutions, but –through the work of participatory development projects – architects of a politics of equity and democratization.

1. Introduction: powering knowledge from the margins

2. Breaking the barriers to information: community-led land mapping in Bihar

3. Building consensus methodically: community rebuilding in the Maldives

4. Knowledge base: towards a community-owned monitoring system

5. Lost policies: locating access to infrastructure and services in rural India

6. A new deluge? People and aid in the aftermath of disaster

7. Subverting for good: sex workers and stigma

8. Making people count: from beneficiaries to evaluators

9. Reimagining development: marginalized people and the post-2015 agenda

10. Conclusion: pathways to post-2015
'The inspiring and contemporary cases in this book provide a refreshing and welcome reminder of the potential of participatory research to challenge power and to support long-term movements for change. In so doing it is a great contribution to a long and rich history of evidence on how people can mobilize their knowledge to build awareness, promote accountability, and deepen democracy from below.'
Professor John Gaventa, Director of Research, Institute of Development Studies, University of Sussex

'Participation Pays is remarkable because it presents key experiences and learning of remarkable people in a remarkable organization.'
Professor Robert Chambers, Institute of Development Studies, University of Sussex

'Praxis is known for its work among disadvantaged communities over the decades, and I congratulate them on the publication of this book.'
Amina J. Mohammed, UN Assistant Secretary-General, Special Advisor of the Secretary-General on Post-2015 Development Planning

'Participation Pays is a very timely reminder of the necessity of participation as India moves from a 65-year old system of centralized and top-down planning through the Planning Commission to a hopefully much more decentralized and bottom-up system. It is a reminder that perhaps the only thing that can truly bring about transformation is if we start listening to the voices of poor and marginalized people and include them in policy, planning and resource allocation decisions.'
Nisha Agrawal, CEO, Oxfam India

'Community-based practitioners, researchers and students alike will appreciate this rich collection of cases about marginalized citizens producing and owning knowledge to fuel social change. It will reinvigorate a commitment to participation and set a new standard for its practice.'
Alison Mathie, Coady International Institute, St Francis Xavier University, Nova Scotia, Canada

'Here are amazingly powerful stories and great frameworks and tools for citizens' empowerment. This book should be a must-have for practitioners, trainers, or decision-makers working in the fields of social justice, democracy or accountability. This should not only re-root and re-energize participation discourse and practices but also give the post-2015 generation a lot to work with to get the implementation, monitoring, evaluation and reporting of the next goals right.'
Ramesh Singh, International Organisation Director, Greenpeace International

Tom Thomas Tom Thomas is Chief Executive of Praxis Institute of Participatory Practices, India.
Pradeep Narayanan Pradeep Narayanan is Director, Research and Consultancies, Praxis Institute for Participatory Practices, India.
Implementing FCTC Article 17 Through Participatory Research With Bidi Workers in Tamil Nadu, India
Russell, Andrew
Chandra, P
Robson, Mary
Narayanan, Pradeep
Joseph, Stanley
Mukherjee, Pavan
Aghi, Mira
Otañez, Marty
Dutta, Madhumita
Bhojani, Upendra
Pathak, Prishanti
John, Sushil
(2022)
https://doi.org/10.1093/ntr/ntac075
[Citations: 0]
Practicing Social Work in Deprived Communities
Listening to the Least: Engaging Communities in Development Programs in India
Vareed, Baiju P.
2021
https://doi.org/10.1007/978-3-030-65987-5_4
[Citations: 0]
Can We Know Better?
CHAPTER 6: Knowing for a better future
Chambers, Robert
2017
https://doi.org/10.3362/9781780449449.006
[Citations: 0]
Can We Know Better?
CHAPTER 5: Power, participation, and knowledge: knowing better together
Chambers, Robert
2017
https://doi.org/10.3362/9781780449449.005
[Citations: 0]