Book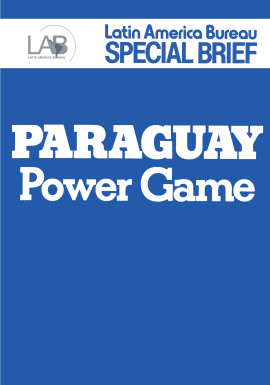 Paraguay
Power Game
Published: 1980
Pages: 76

eBook: 9781909013780
Paperback: 9780906156100
Since 1954 Paraguay has been ruled by the dictator Alfredo Stroessner, the longest surviving head of state in the world. His regime has been characterized by extreme brutality, corruption and economic stagnation. However, in 1973 Paraguay began to experience dramatic economic and social changes as a result of the construction of Itaipu - the largest hydroelectric dam in the world - and massive Brazilian colonization.

Paraguay: Power Game chronicle's Paraguay's tragic history and analyzes the nature of the Stroessner regime. It look critically at the country's explosive economic development, in particular the threat to Paraguayan autonomy from Brazil, and shows how this process is deepening the exploitation and impoverishment of the Paraguayan people. The terms of the Itaiou treaty, which gurantee Brazil cheap electric power at Paraguay's expense, have already become a focus for opposition to Stroessner's iron control of the country, marking the beginning of a new power game in Paraguay.
Prelims - Paraguay (Title Page, Copyright Information, Contents, Map)

1. Paraguay
RURAL DEVELOPMENT POLICY IN PARAGUAY SINCE 1960
KLEINPENNING, J. M. G.
Tijdschrift voor Economische en Sociale Geografie, Vol. 75 (1984), Iss. 3 P.164
https://doi.org/10.1111/j.1467-9663.1984.tb00988.x
[Citations: 6]
Elites, the Rural Masses and Land in Paraguay: The Subordination of the Rural Masses to the Ruling Class
Kleinpenning, J.M.G.
Zoomers, E.B.
Development and Change, Vol. 22 (1991), Iss. 2 P.279
https://doi.org/10.1111/j.1467-7660.1991.tb00412.x
[Citations: 14]
From dictatorship to democracy: the US and regime change in Paraguay, 1954-1994
MORA, FRANK O.
Bulletin of Latin American Research, Vol. 17 (1998), Iss. 1 P.59
https://doi.org/10.1111/j.1470-9856.1998.tb00179.x
[Citations: 0]