Book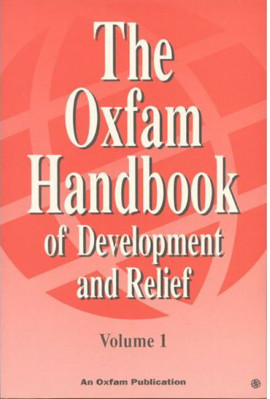 The Oxfam Handbook of Development and Relief
Published: 1995
Pages: 1490

Paperback: 9780855982744
This handbook is the product of the experience of Oxfam UK and Ireland in its work in over 70 countries around the world. It offers an expression of Oxfam's fundamental principles: that all the people have the right to an equitable share in the world's resources, and the right to make decisions about their own development. The denial of such rights is at the heart of poverty and suffering. This reference work analyses policy, procedure and practice in such fields as health, human rights, emergency relief, capacity-building and agricultural production.
Volume One

1. Oxfam's approach to development and relief

Principles of development and relief work

Human rights in development and relief work

Environment and development

Exploring the context for development and relief work

Appendix: universal declaration of human rights

2. Focusing on people

Gender

Ethnicity, Race and Caste

Childhood

Ageing

Disability

3. Capacity building for development

Social organization

Institutional development

Volume Two

4. Production

General aspects of production

Agriculture

Fishing

Trees and forestry

Small-scale industries

5. Health and development

Introduction

Background: approaches to health care

Focusing on people - health needs of specific population groups

Health care provision

Financing, planning and evaluating health programmes

6. Emergencies and development

Introduction

Background: emergencies, conflict and development

Emergencies deriving from war and armed conflict

Assessment, co-ordination and consultation in emergencies

Health and nutrition in emergencies

Environmental health and physical infrastructure

Food security, food aid and food distribution in emergencies

Oxfam procedures in emergency relief programmes

Appendices:

Relief items for which local suppliers should be found

Oxfam's emergency stores

Other relief items

Standard specifications for commonly required relief items

Oxfam policy in emergencies

Oxfam water supply scheme for emergencies - the water packs

Oxfam emergency sanitation unit
Deborah Eade
Deborah Eade was Editor-in-Chief of Development in Practice from 1991 to 2010, prior to which she worked for 10 years in Latin America. She is now an independent writer on development and humanitarian issues, based near Geneva.