Book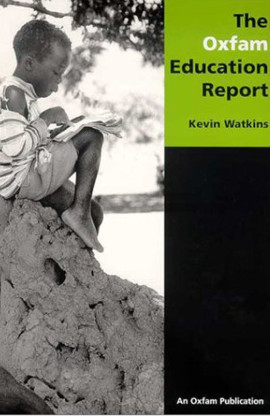 The Oxfam Education Report
Published: 2000
Pages: 240

eBook: 9780855988081
Paperback: 9780855984281
This comprehensive report focuses on the fact that millions of people in poor countries remain uneducated and illiterate - which prevents them from developing the skills they need to escape poverty. The book looks at the underlying causes of the problem and sets out a clear agenda for reform. It demonstrates that universal free good-quality primary education is affordable and possible if governments all over the world change their priorities. An invaluable resource for anyone interested in education as a development issue, it is clear and accessible with many diagrams and statistics.
Acknowledgements

Introduction

1. Education and human development

The 2015 targets: a progress report

Education and health

Education and income-poverty

Education and globalisation

Education, democracy, and empowerment

2. Education for all: promises and progress

The education targets

The quantitative targets

The quality of education

3. Inequalities in education

North-South inequalities

Inequalities between developing countries

National inequalities in education

4. National barriers to basic education

Constraints on poor households

Public investment in education

Finacial decentralisation and privatisation

5. International co-operation: the record since Jomtien

The record on aid

The debt crisis as a barrier to education for all

Structural adjustment and the role of the IMF in poor countries

Lessons from the East Asia crisis

6. Partnership for change

State action for universal primary education

States and non-government organisations

Partnerships in action: five case studies

7. An agenda for action

From Jomtien to Dakar

Action at the national level International action

Towards a global initiative

Appendix 1 The education Performance Index (EPI)

Appendix 2 List of background papers
Kevin Watkins
Keven Walkins is Senior Visiting Research Fellow at the Global Economic Governance Programme at University College of the University of Oxford. He has participated on the World Economic Forum as a discussion leader on the IdeasLab on the Global Redesign Initiative (Values and People) in 2010. In addition, he is a board member of the Center for Global Development, UNICEF's Innocenti Research Centre and the Journal of International Development. He also has a blog on The Guardian.