Book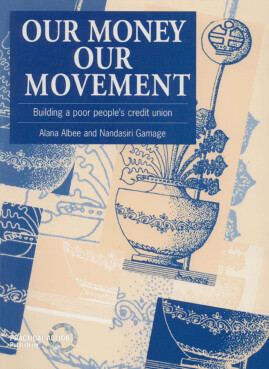 Our Money, Our Movement
Building a poor peoples credit union
Published: 1996
Pages: 64

eBook: 9781780440880
Paperback: 9781853393884
Credit and savings mechanisms are becoming a powerful tool in development, but many initiatives are only now aiming for the ownership of these mechanisms to be in the hands of the borrowers themselves. Our Money, Our Movement describes how this goal has already been reached by the Women's Credit Union in Sri Lanka. It challenges the more conventional 'delivery' approach to development by illustrating how financial services can be controlled and managed by the poor, rather than delivered to them, an approach which has long been a fundamental tenet of the credit union movement. This is essential and inspiring reading for development agency staff, and others either interested in people's movements or involved in credit and savings initiatives.
ACKNOWLEDGEMENTS vii

PREFACE ix

FOREWORD by Diana Mitlin, International Institute for Environment and

Development xi

1 The Canal Bank: A short story 1

2 Supporting Emerging Poor People's Organizations 6

3 The Credit Union Co-operative Society 9

3.1 Background to the Credit Union Movement 9

3.2 The Women's Credit Union in Sri Lanka 10

3.3 A Step-by-Step Approach to Group Formation 20

3.4 When Things Go Wrong 25

4 More than Money: Social development and housing activities 29

4.1 The Children's Cultural Programme 29

4.2 Housing Loans 31

4.3 Additional Social Support 32

5 Towards Sustainability and Scaling-up 34

6 Conclusion 36

NOTES 38

APPENDICES:

1 Sri Lanka: A situation analysis 39

2 The Women's Credit Union: Statistical overview, December 1994 43

3 The Women's Credit Union: Statistical overview of finance, December 1994 44

4 The Praja Sahayaka Sewaya and the Million Houses Programme: Background information 45

BIBLIOGRAPHY 46
Alana Albee
Alana Albee is a founding member of the Caledonia Centre for Social Development. She has been an international consultant on participation, micro-finance and community development for many years and took up the post of Social Development Advisor for DFID(Department for International Development) in Tanzania in May 1999. Since 2011, she has been Senior Adviser at DFID, UK.
Nandasiri Gamage
Mr. Nandasiri Gamage is an economic graduate of the Peradeniya University and founder of the Women's Bank in Sri Lanka.
The future of credit unions in the United States: evidence from quantitative extrapolations†
Nikolopoulos, Kostantinos
Handrinos, Michael C.
Applied Financial Economics Letters, Vol. 4 (2008), Iss. 3 P.177
https://doi.org/10.1080/17446540701704349
[Citations: 0]
Housing and Urban Poverty: A Consideration of the Criteria of Affordability, Diversity and Inclusion
Mitlin, Diana
Housing Studies, Vol. 16 (2001), Iss. 4 P.509
https://doi.org/10.1080/02673030120066572
[Citations: 11]