Book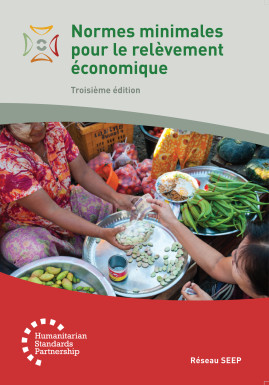 Normes minimales pour le relèvement économique 3rd Edition
Series: Humanitarian Standards
Published: 2018
Pages: 186

eBook: 9781780449647
Paperback: 9781788530200
Le domaine de l'assistance humanitaire a pris un virage important. Ce virage comprend une plus grande prise de conscience du rôle clé que jouent les marchés pour aider les populations affectées à se relever après un choc. Parallèlement aux efforts des services d'urgence pour répondre aux besoins élémentaires d'abris, d'eau, de nourriture et de services sanitaires, une aide au relèvement économique est requise car les économies continuent de fonctionner en temps de crise. Dans le passé, le développement économique était traité comme une activité à engager à un stade ultérieur avec peu ou pas de coordination entre les secours et le développement. Les acteurs humanitaires d'aujourd'hui, d'un commun accord entre un large éventail d'agences d'aide, promeuvent un soutien aux moyens de subsistance pour aider les populations affectées à gagner leur vie et à couvrir leurs propres besoins de première nécessité. Les Normes minimales pour le relèvement économique (MERS), élaborées et révisées grâce aux efforts conjoints de plus de 90 agences et plus de 175 praticiens, représentent le consensus de l'industrie en matière de relèvement économique pour le secteur humanitaire. MERS sont désormais reconnues et largement acceptées comme un standard de l'industrie qui donne des actions et des indicateurs clés et des notes d'orientation afin d'optimiser l'efficacité des organisations qui travaillent pour appuyer le relèvement économique des populations affectées par une crise. Les normes mettent en exergue des stratégies conçues pour promouvoir le développement de l'entreprise et de systèmes de marché, la distribution d'actifs, les services financiers et l'emploi dans des zones affectées par un conflit ou une catastrophe. Aujourd'hui, MERS sont reconnues comme faisant partie intégrante du Partenariat pour les standards humanitaires, constitué du projet Sphère et de ses standards associés, qui ensemble promeuvent la complémentarité des normes techniques et fournissent des ressources fondées sur la preuve dans de multiples domaines d'interventions humanitaires.
Utilisation des normes

Bref aperçu des normes

1 Normes essentielles

2 Normes pour l'évaluation et l'analyse

3 Normes pour le développement de l'entreprise et de systèmes de marché

4 Normes pour la distribution d'actifs

5 Normes pour les services financiers

6 Normes pour l'emploi

Annexe : Outils liés au marché et cadres d'évaluation

Glossaire

Groupe de travail sur l'élaboration des normes
The SEEP Network
The SEEP Network is a global network of over 130 international practitioner organizations dedicated to combating poverty through promoting inclusive markets and financial systems.