Book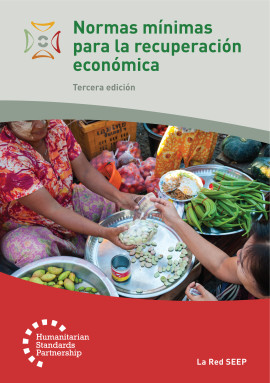 Normas mínimas para la recuperación económica 3rd Edition
Series: Humanitarian Standards
Published: 2018
Pages: 186

eBook: 9781780449630
Paperback: 9781788530194
Se ha producido un cambio importante en el campo de la ayuda humanitaria. Este cambio incluye, entre otros aspectos, una mayor concienciación en lo que respecta al papel fundamental de los mercados a la hora de prestar asistencia a las poblaciones afectadas para recuperarse de las crisis. De forma simultánea a las iniciativas puestas en marcha para cubrir las necesidades humanas básicas de alojamiento, agua, alimentos y servicios sanitarios, la ayuda para la recuperación económica resulta necesaria, ya que las economías siguen funcionando durante los periodos de crisis. Hasta ahora, el desarrollo económico se había considerado una actividad propia de una etapa posterior, con escasa, o nula, coordinación con las acciones para la ayuda humanitaria o el desarrollo. Partiendo de la postura mayoritaria de un buen número de agencias, los actores del sector humanitario están promoviendo en la actualidad iniciativas de asistencia a través de los medios de vida, para ayudar a las comunidades afectadas a ganarse la vida y a cubrir sus necesidades básicas. Las Normas mínimas para la recuperación económica (MERS), elaboradas y revisadas gracias al trabajo conjunto de más de 90 agencias y 175 profesionales, representan una visión consensuada del sector humanitario en lo que respecta a la recuperación económica. MERS se han convertido en pautas de referencia, reconocidas y aceptadas por la industria humanitaria, que proporcionan medidas, indicadores y notas orientativas fundamentales, para mejorar la eficacia de las organizaciones que trabajan con el objetivo de apoyar la recuperación económica de las poblaciones afectadas por situaciones de crisis. Las normas ponen de relieve estrategias diseñadas para fomentar el desarrollo de los sistemas empresariales y de mercado, el reparto de activos, los servicios financieros y el empleo en zonas afectadas por conflictos o desastres. En la actualidad, MERS están consideradas como parte integrante de la Cooperación de Normas Humanitarias, compuesta por el Proyecto Esfera y sus Normas complementarias, que fomentan de manera colaborativa el carácter complementario de las distintas normas técnicas y ofrecen recursos basados en pruebas para diferentes áreas de la ayuda humanitaria.
Uso de las normas

Un vistazo rápido a las normas

1 Normas esenciales

2 Normas en materia de valoración y análisis

3 Normas en materia de desarrollo empresarial y sistemas de mercado

4 Normas en materia de distribución de activos

5 Normas en materia de servicios financieros

6 Normas en materia de empleo

Anexo: Herramientas vinculadas al mercado y marcos para las valoraciones

Glosario

Equipo de desarrollo de normas
The SEEP Network
The SEEP Network is a global network of over 130 international practitioner organizations dedicated to combating poverty through promoting inclusive markets and financial systems.