Book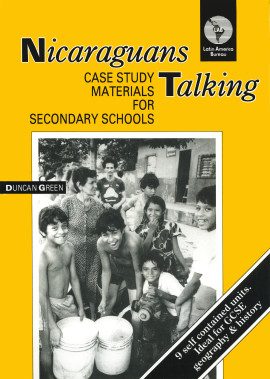 Nicaraguans Talking
Case Study Materials for Secondary Schools
Published: 1990
Pages: 134

eBook: 9781909013322
Paperback: 9780906156506
Nicaraguans Talking uses Nicaragua as a case study raising a wide range of development and social justice issues. Since the 1979 revolution, a large proportion of the population has become involved in the search for a way out of the development trap and the Somoza dictatorship's legacy of economic and social injustice. Nicaragua has become a laboratory where many fascinating social experiments are taking place, and everyone wants to talk about them!
Nicaraguans Talking allows students to look at Nicaragua through the words of its people. Extracts from over 90 interviews conducted by the author in late 1986 are supplemented by other source materials including photos, cartoons, statistical information and poetry.

The book progresses largely through active learning activities, such as creative writing, investigation, role plays and group discussion. Wherever relevant, students are asked to compare Nicaragua with their own experience in Britain. Care has been taken to ensure balanced representation of men and women throughout, with activities on women's roles both in Nicaragua and Britain.

Teachers are not expected to use the whole course, but to dip into different sections. For that reason the nine sections are self-contained, with word-boxes and other information accompanying the text to minimise photocopying. All material is free of copyright for classroom use. Nicaraguans Talking is written and designed principally for mixed ability work with 14-16 year olds.ln England and Wales, it has special relevance to GCSE subject areas in Geography, Modern History, Integrated Humanities, Religious Studies and Social Studies. Under the National Curriculum, it is also relevant to cross-curricular work in personal/social education, political/international awareness, interdependence and economic awareness.
Prelims - Nicaraguans Talking (Title Page, Copyright Information, About this Book, Contents)

1. Nicaraguans Talking
Duncan Green
Duncan Green is the author of From Poverty to Power and Oxfam GB's Senior Strategic Adviser. He was Oxfam's Head of Research from 2004-12. From Poverty to Power contains the accumulated knowledge of 25 years spent researching and writing about reducing poverty and combating injustice and, as he says, trying to "do justice to the complexity of the world, while still believing there is a story about how it can be changed for the better."