Book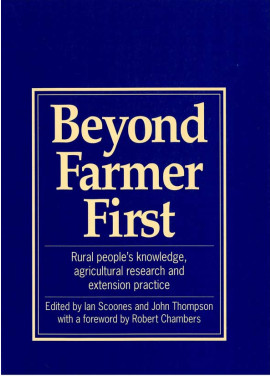 Beyond Farmer First
New directions in pastoral development in Africa
Published: 1994
Pages: 320

eBook: 9781780442372
Paperback: 9781853392504
The purpose of this book is to reveal how agricultural research and extension, far from being discrete, rational acts, are in fact part of a process of coming to terms with conflicting interests and viewpoints. By going beyond Farmer First, this theoretically informed perspective describes agricultural development as what it is: a highly ideological and political process. As Robert Chambers notes in his foreword, the concerns of Farmer First with performance and of Beyond Farmer First with process, indicate that a radical rethinking of knowledge, power and agricultural science is well under way.
Contributors vi
Preface ix
Acknowledgements xiii
1 New directions in pastoral development in Africa 1
IAN SCOONES
2 Climate variability and complex ecosystem dynamics:
implications for pastoral development 37
JIM ELLIS
3 New directions in range management planning in Africa 47
GREGORY PERRIER
4 Forage alternatives from range and field: pastoral forage
management and improvement in the African drylands 58
WOLFGANG BAYER and ANN WATERS-BAYER
5 Livestock marketing in pastoral Africa: policies to increase
competitiveness, efficiency and flexibility 79
JOHN S. HOLTZMAN and NICOLAS P. KULIBABA
6 Tracking through drought: options for destocking and restocking 95
CAMILLA TOULMIN
7 New directions in rangeland and resource tenure and policy 116
CHARLES LANE and RICHARD MOOREHEAD
8 Pastoral organizations for uncertain environments 134
DJEIDI SYLLA
9 Dynamic ecological systems and the administration of pastoral
development 153
JEREMY SWIFT
10 Improving the efficiency of opportunism: new directions for
pastoral development 174
STEPHEN SANDFORD
References 183
Index 207

Ian Scoones
Ian Scoones is co-director of the ESRC STEPS Centre at Sussex and joint convenor of the IDS-hosted Future Agricultures Consortium. He is an agricultural ecologist whose interdisciplinary research links the natural and social sciences.
John Thompson
John Thompson is a Research Fellow at the Institute of Development Studies, University of Sussex.