Book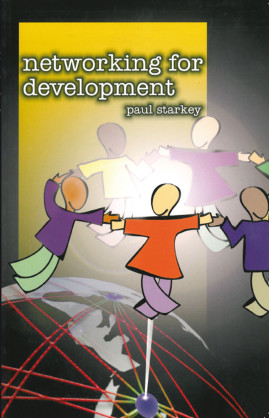 Networking for Development
Published: 1998
Pages: 104

eBook: 9781780445564
Paperback: 9781853394300
Networking, a buzz word in business circles for many years, has become fashionable in development too. Networking for Development is the first comprehensive survey and synthesis of the subject. At the same time, it is a concise practical manual for people who are involved in networks or who may be thinking of establishing one. The first part discusses the benefits and problems of networks in general, and sets out guidelines for successful networking, with several short case studies, from, among others, Sri Lanka, Nicaragua and Kenya. To illustrate these points more fully, part two contains a more detailed case study of animal traction networks in Africa. A useful list of contacts and resource materials is also included.
Foreword 7

Preface and acknowledgements 9

Acronyms and abbreviations 11

Pt. 1 Networks and Networking 13

Network types and networking benefits 14

General problems faced by networks 21

General guidelines for networks 31

Pt. 2 Animal Traction Networks in Africa 47

The animal traction networks: experiences 48

Lessons from the African networks 63

Appendix 1 Further reading 95

Appendix 2 Network contacts 100
Paul Starkey
Paul Starkey, is a specialist in animal traction and rural transport. For many years he has acted in a voluntary capacity as Technical Adviser to animal traction networks in Africa. He has published widely and has been called upon to advise the International Forum for Rural Transport and Development and also development networks in Africa, Asia and Latin America on networking issues.
Information and Communication Technologies and Non-Governmental Organisations: Lessons Learnt from Networking in Mexico
Rodríguez, Gabriela Romo
The Electronic Journal of Information Systems in Developing Countries, Vol. 21 (2005), Iss. 1 P.1
https://doi.org/10.1002/j.1681-4835.2005.tb00135.x
[Citations: 5]
The Pattern of Older Persons Organizational Network in the Northeastern Region of Thailand
Whangmahaporn, Piyakorn
Pratyaphruet, Tin
Simmonds, Phongsak
(2018)
https://doi.org/10.2139/ssrn.3229113
[Citations: 1]
Networking for regional development: a case study
Khodabandehloo, Akbar
EuroMed Journal of Business, Vol. 9 (2014), Iss. 2 P.149
https://doi.org/10.1108/EMJB-10-2013-0045
[Citations: 6]