Book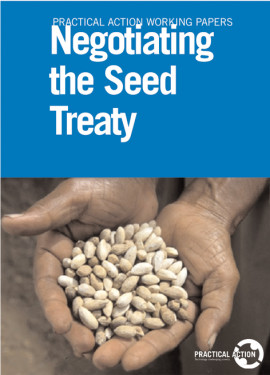 Negotiating the Seed Treaty
Published: 2007
Pages: 64

eBook: 9781780441252
Paperback: 9781853396281
The International Seed Treaty came into force in 2004 was the culmination of over 20 years of negotiation. The need for a treaty arose out of a growing awareness that crucial plant genetic resources are being irretrievably lost. This book describes the complex process by which a wide range of parties worked to shape the negotiations and conclude the resulting Treaty. With a focus on how the diverse array of actors were able to work together in new ways despite their radically differing interests, this study provides vital lessons for governments, international agencies and NGOs on successful international treaty negotiation.

Negotiating the Seed Treaty will be of interest to all readers concerned with international agricultural policy, genetic resource diversity and multilateral policy process.
Prelims (Contents, Acknowledgements, Acronyms, Contributors)

1. Negotiating the Seed Treaty
Stuart Coupe
Stuart Coupe formerly International Projects Manager of the Reducing Vulnerability Team at Practical Action, an international NGO active on agricultural biodiversity and Farmers' Rights issues, has a background in Southern African Studies, including doctorate study and published works since 1992.
Roger Lewins
Roger Lewins, formerly a Research Fellow at the University of Portsmouth, is an independent consultant in the field of development research. He currently specializes in governance issues in the fisheries sector.
Open Variety Rights: Rethinking the Commodification of Plants
Deibel, Eric
Journal of Agrarian Change, Vol. 13 (2013), Iss. 2 P.282
https://doi.org/10.1111/joac.12004
[Citations: 22]
Le pouvoir de la biodiversité
Bibliographie
2015
https://doi.org/10.4000/books.irdeditions.21906
[Citations: 0]
Institutional Complexity and Opportunity Structures: Weaker Actor Influence in International Intellectual Property Regulation
Dreyling, Justus
Global Policy, Vol. 12 (2021), Iss. S4 P.37
https://doi.org/10.1111/1758-5899.12897
[Citations: 0]
Access without benefit-sharing: design, effectiveness and reform of the FAO seed treaty
Rabitz, Florian
International Journal of the Commons, Vol. 11 (2017), Iss. 2 P.621
https://doi.org/10.18352/ijc.736
[Citations: 7]
The Substance and Content of Farmers' Rights – A Framework?
Lawson, Charles
Bikundo, Edwin
(2019)
https://doi.org/10.2139/ssrn.3457058
[Citations: 0]