Book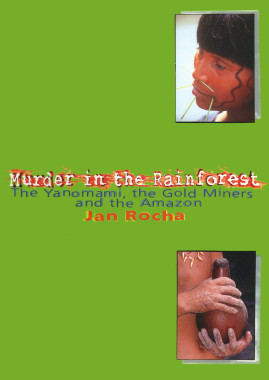 Murder in the Rainforest
The Yanomami, the Gold Miners and the Amazon
Published: 1999
Pages: 96

eBook: 9781909013308
Paperback: 9781899365371
In July 1993, near Haximu, a tiny hamlet in the Amazon rainforest, a fateful meeting between a group of young Yanomami Indians and Brazilian gold miners resulted in the massacre of the Yanomami. News of the tragedy shocked Brazil and the world. But mysteries remained: What exactly happened at Haximu? How many people died? Who killed the Indians and why? Using eyewitness accounts, this work tells the story behind the Haximu massacre. Set in the context of the Amazon gold rush, it describes the failings of Brazil's official indigenous policy, the tragic cultural misunderstanding between the gold miners and Yanomami, and analyzes the role of gold fever in the destruction of the Amazon rainforest and its people.
Prelims - Murder in the Rainforest (Title Page, Copyright Information, Preface: A Note, Author's Note, Contents, Map, Acknowledgements, Chronicle of a Massacre)

1. Murder in the Rainforest
Jan Rocha
Jan Rocha is a freelance reporter and wriiter and has worked for the BBC and The Guardian
Fuel of fear and force: gasoline's energetic power and its entanglement in composite ethics
Penfield, Amy
Journal of the Royal Anthropological Institute, Vol. 25 (2019), Iss. S1 P.140
https://doi.org/10.1111/1467-9655.13019
[Citations: 2]
Cultural Diversity in the Amazon Borderlands: Implications for Conservation and Development
Salisbury, David S.
Weinstein, Ben G.
Journal of Borderlands Studies, Vol. 29 (2014), Iss. 2 P.217
https://doi.org/10.1080/08865655.2014.916462
[Citations: 6]