Book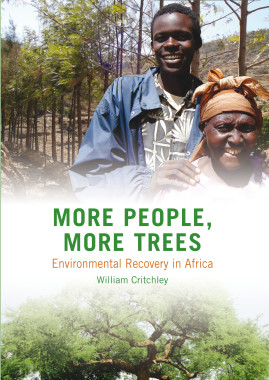 More People, More Trees
Environmental Recovery in Africa
Published: 2011
Pages: 200

Paperback: 9781853397172
Over 20 years ago, concerned famers' groups in Kenya and Burkina Faso began to adopt new measures to conserve soil and water and to re-establish trees in their fields. Two videos, Looking after our Land and Building on Traditions, recorded the new participatory approaches for land conservation being developed at that time in various countries. More People, More Trees returns to the same communities, and some of the same people, in Kenya and Burkina Faso to document developments since the original filming. The film shows spectacular changes: most obviously more trees planted and protected by the people themselves aided and encouraged by continuing community projects. More People, More Trees thus highlights a demonstrable success story for community participation in agricultural change in Burkina Faso and Kenya. In this film, the landscapes tell their own story, but so do the local people. The accompanying book expounds upon the powerful messages in the film and describes the technologies employed by the communities, provides hard data to support their testimonies, and looks at the current challenges of soil conservation in the context of climate change.
Prelims (About the author, Foreword, Preface, Acronyms and abbreviations)

1. New approaches: then and now

2. More people, more trees

3. Continuing challenges, new opportunities

4. Theory, debate and the way forward

Technical Annex 1. Zaï and stone lines in Burkina Faso

Technical Annex 2. Parkland agro forestry in Burkina Faso

Technical Annex 3. Fanya juu terraces in Kenya

Technical Annex 4. Grevillea robusta trees in Kenya

Back Matter (Endnotes, References)
'More People, More Trees provides visual evidence of what our research shows; that tree cover on agricultural land is increasing, and associated with this are environmental as well as livelihood benefits. The projects documented here demonstrate how participatory approaches to natural resource management, which harness existing farmer knowledge and apply appropriate technologies, can make a real difference. I strongly commend this work for its portrayal of positive interventions.' Dr Dennis Garrity, Director General, World Agroforestry Centre 'A timely and hugely important film – and companion booklet – that make a vital point about environmental recovery in Africa. With the right approaches that combine local and external capacities and knowledges, it has been possible to feed more people from a greener landscape. There are inspiring lessons here for countries worldwide.' Professor Jules Pretty, OBE, University of Essex 'Can small-scale soil-and-waterconservation projects make a difference to people's livelihoods in Africa in the long term? Can they help farmers adapt to climate change? This fascinating film returns to two sites – in Kenya and Burkina Faso – after 20 years and finds out. It shows how small investments can result in huge changes, if appropriate technologies are used and if farmers are fully involved in the development process.' Professor Ian Scoones, Institute of Development Studies, University of Sussex
William Critchley
William Critchley is a specialist in tropical agricultural development and heads a unit on 'sustainable land management' at the at the VU University Amsterdam's Centre for International Cooperation.