Book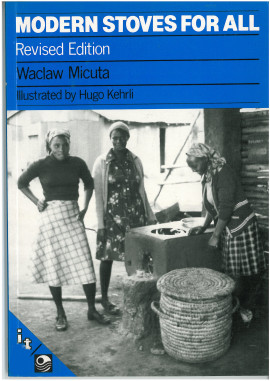 Modern Stoves for All
Published: 1985
Pages: 96

eBook: 9781780442860
Paperback: 9780946688357
Revised edition of this practical survey of low-cost stoves for use in developing countries. Prepared for skilled technicians who will be able to use the drawings as a basis for building stove models, for testing and adaptation to local conditions.
9781780442860.000 1
Part I ― Basic Principles 9

A. Firewood as a Fuel 10
B. The Essentials of Efficient Stoves 10
C. The Main Characteristics of Firewood 10

―Composition 10
―Heat Value 11
―Density 11
―Moisture Content 11

D. The Process of Wood Combustion 12

―Optimal Size of Firewood 12
―Air Supply 12

E. The Stages of Wood Combustion 12

―The Three Stages 13
―Flame Temperature 13
―Fire–Lighters 13

F. Primary and Secondary Air 13

―The Importance of Secondary Air 13
―Pre–Heating the Air Supply 13

G. Winning Acceptance for New Methods 14

―Advantages of Open–Fire Cooking 14
―Disadvantages of Open–Fire Cooking 14

H. The Evolution from Open Fires to Modern Stoves in Developed Countries 15

―Diminishing Heat Loss through Radiation 15
―Reducing Heat Loss Caused by Convection 15
―Increasing Heat Absorption by Conduction 16

I. Basic Components of Wood-Burning Stoves 16

―The Fire–Box 16
―The Grate 16
―The Doors 18
―The Heating Plates 19
―Dampers and Baffles 20
―The Chimney 20
―The Cowl 22
―General Proportions of Stove Components 22
Part II ― Cooking Pots, Alternative Fuels and Cooking Methods 23

J. Cooking Pots 24
K. Alternative Fuels 25

―Bundles and Faggots 25
―Briquettes 27
―Kerosene 30
―Diesel Oil 32
―Bottled Gas 32
―Biogas 32

M. Hay Boxes 33
N. Cooking Methods 34

Short–term Versus Long–term Cooking 34
―The Cooking System 34
Part III ― Description, Construction and Testing of Stove and Oven Models 35

O. Preparation of Clay 36

―Resistance to Thermic Shocks 36
―'Grogging' 37
―The Hay Method 37
―Well–Managed Open Fire 37
―Protected Open Fire 39
―Crescent Stove 42
―Pogbi or 'Ruthigiti' Stove 45
―Peasant Stove 51
―Rural Stove 53
―Farmhouse Stove 55

Q. Portable Metal Braziers 57

―The Polish Stove 57
―The Nomad Stove 61
―The Family Stove 64

R. The Use of Charcoal 66

―The Kenyan Jiko 67

S. Community Stoves 70
T. Bread Ovens 78

―Construction 79

U. Home Heating Devices 84

V. The Testing of Wood Stoves 86

―The Importance of Testing 86
―The Short Water Boiling Test 90
―The Long Water Boiling Test 90
―Demonstration of the Relative Fuel Efficiency of Stoves 91
―Improving the Reliability of Tests 92
―The Hierarchy of Tests 92
―Reporting Forms 93
―Other Tests on Wood Stoves 93
―The Eindhoven Formula 94
Waclaw Micuta
waclaw Micuta died in 2008. He was was a Polish economist, functionary of the United Nations and a soldier. He was also a pioneer in and a tireless supporter of renewable energy and the founder of Renewable Energies Development Institute in Geneva.[10] While working for institute he developed a low cost fuel efficient stove which could be easily constructed and used in poor countries.[11]