Book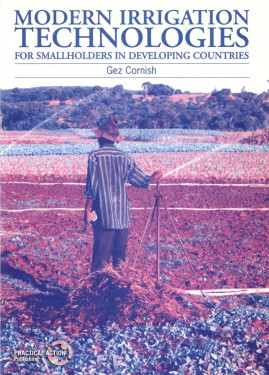 Modern Irrigation Technologies for Smallholders in Developing Countries
Published: 1998
Pages: 96

eBook: 9781780444178
Paperback: 9781853394577
Modern Irrigation Technologies reviews the experience of smallholders with irrigation technologies in a range of diverse conditions in many different countries. Some people argue that modern irrigation technologies are the key to increased food production. However, projects introducing modern irrigation technologies in the developing world have often failed because the irrigation hardware, which has been developed for high-technology commercial agriculture, cannot be easily adapted for the use of the smallholder. The author identifies the pre-conditions relating to water availability, institutional support and economic opportunity that must be satisfied before smallholders in developing countries can adopt irrigation methods and benefit from them. The circumstances in which modern technologies were introduced are identified, and the relative success or otherwise of the initiatives are summarized. The book also contains a practical review of the range of irrigation hardware that is available and indicates the types of equipment that are more likely to meet the requirements of the smallholder sector. G.A.Cornish is an irrigation engineer with wide experience of technology transfer and staff training on irrigation schemes in sub-Saharan Africa and south and southeast Asia. He currently works at the Overseas Development Unit of HR Wallingford, UK. Modern Irrigation Technologies will be an invaluable guide to project workers, planners and smallholders involved in planning and designing irrigation projects.
Introduction 1

General 1

Modern Technologies 3

2 Modern Irrigation Technologies 5

The Development of Modern Irrigation Technologies 5

Characteristics of Modern Irrigation Technologies 6

Sprinkler Systems 8

Micro-Irrigation 11

Piped Distribution Systems for Surface Irrigation 16

3 Matching Technologies to the Needs of Smallholders 19

The Context 19

Technical Factors Influencing Uptake of New Technology 21

4 The Uptake of Technologies -Experiences to Date 27

Availability of Water 27

Form of Exploitation - Individual or Communal Schemes 31

Farming System 32

The Role of Government and the Private Sector 34

Marketing and Finance 36

5 Potential for the African Region 38

6 Summary of Findings 43

7 The Promotion of Modern Irrigation Technology 47

8 References and Bibliography 50

9 Acknowledgements 65
Gez Cornish
Gez Cornish is an irrigation engineer with wide experience of technology transfer and staff training on irrigation schemes in sub-Saharan Africa and South and South-east Asia. He currently works for HR Wallingford, UK.
The impact of climate change on smallholder and subsistence agriculture
Morton, John F.
Proceedings of the National Academy of Sciences, Vol. 104 (2007), Iss. 50 P.19680
https://doi.org/10.1073/pnas.0701855104
[Citations: 814]
Linking smallholder farmer climate change adaptation decisions to development
Burnham, Morey
Ma, Zhao
Climate and Development, Vol. 8 (2016), Iss. 4 P.289
https://doi.org/10.1080/17565529.2015.1067180
[Citations: 69]
Status and drivers of food insecurity and adaptation responses under a changing climate among smallholder farmers households in Bagmati Province, Nepal
Karki, Sikha
Burton, Paul
Mackey, Brendan
Alston-Knox, Clair
Environment, Development and Sustainability, Vol. 23 (2021), Iss. 10 P.14642
https://doi.org/10.1007/s10668-021-01262-x
[Citations: 1]
Vulnerability of smallholder farmers to climate change in Central America and Mexico: current knowledge and research gaps
Donatti, Camila I.
Harvey, Celia A.
Martinez-Rodriguez, M. Ruth
Vignola, Raffaele
Rodriguez, Carlos Manuel
Climate and Development, Vol. 11 (2019), Iss. 3 P.264
https://doi.org/10.1080/17565529.2018.1442796
[Citations: 44]
A systematic review of how vulnerability of smallholder agricultural systems to changing climate is assessed in Africa
Williams, Portia Adade
Crespo, Olivier
Abu, Mumuni
Simpson, Nicholas Philip
Environmental Research Letters, Vol. 13 (2018), Iss. 10 P.103004
https://doi.org/10.1088/1748-9326/aae026
[Citations: 36]
Handbook of Climate Change Management
Climate Change: Land Use and Water Management Practices by Small Holding Farmers in Kayunga District, Uganda
Mwangu, Alex Ronald
2021
https://doi.org/10.1007/978-3-030-57281-5_45
[Citations: 0]
Prospects and Constraints of Desert Agriculture: Lessons from West Omdurman
El Gamri, Tarig
Environmental Monitoring and Assessment, Vol. 99 (2004), Iss. 1-3 P.57
https://doi.org/10.1007/s10661-004-4000-z
[Citations: 1]
Handbook of Climate Change Management
Climate Change: Land Use and Water Management Practices by Small Holding Farmers in Kayunga District, Uganda
Mwangu, Alex Ronald
2021
https://doi.org/10.1007/978-3-030-22759-3_45-1
[Citations: 0]
Climate change adaptation by subsistence and smallholder farmers: Insights from three agro-ecological regions of Nepal
Karki, Sikha
Burton, Paul
Mackey, Brendan
Adam, Elhadi
Cogent Social Sciences, Vol. 6 (2020), Iss. 1
https://doi.org/10.1080/23311886.2020.1720555
[Citations: 12]